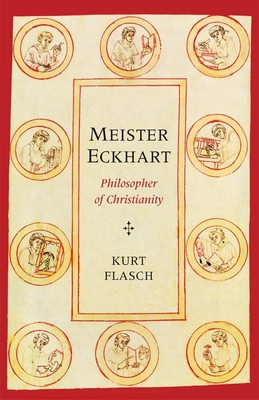 Meister Eckhart
Philosopher of Christianity
Hardcover

* Individual store prices may vary.
Description
Renowned philosopher Kurt Flasch offers a full-scale reappraisal of the life and legacy of Meister Eckhart, the medieval German theologian, philosopher, and alleged mystic who was active during the Avignon Papacy of the fourteenth century and was tried for heresy by Pope John XXII. Disputing his subject's frequent characterization as a hero of a modern, syncretic spirituality, Flasch attempts to free Eckhart from the "Mystical Flood" by inviting his readers to think along with Eckhart in a careful rereading of his Latin and German works.
 
This fascinating study makes a powerful case for Eckhart's position as an important philosopher of the time rather than a mystic and casts new light on an important figure of the Middle Ages whose ideas attracted considerable attention from such diverse modern thinkers as Schopenhauer, Vivekananda, Suzuki, Fromm, and Derrida.
Praise For Meister Eckhart: Philosopher of Christianity…
"Flasch is one of the senior scholars and best known writers on late German medieval thought in Europe. This convincing book should be required reading for anyone interested in understanding the background and sources of Eckhart's ideas."— Clyde Lee Miller, Stony Brook University

— Clyde Lee Miller

"In this masterpiece, Kurt Flasch, one of the world's foremost Eckhart scholars, shows how Eckhart remains a thorn in the flesh of his readers. He stands against any systematic attempt to catch his imagination, and he cannot be institutionally subsumed by any church or religious order."—Markus Vinzent, King's College London and Max-Weber-Centre, Erfurt

— Markus Vinzent

"This is a useful addition to the historical-contextual study of Eckhart. And, perhaps more importantly, Flasch's work in translation represents a new and more focused effort towards establishing an international conversation on this enigmatic 'philosopher of Christianity'."—Christopher David Shaw, Theology
— Christopher David Shaw

"This important intellectual biography of Meister Eckhart represents the culmination of Kurt Flasch's sixty-year involvement with Eckhart's thought. Comprehensive, richly learned, and trenchantly argued . . . [a] classic . . . beautifully written . . . the best general introduction in English to a revolutionary thinker."—John M. Connolly, Catholic Historical Review
— John M. Connolly
Yale University Press, 9780300204865, 344pp.
Publication Date: November 24, 2015
About the Author
Kurt Flasch is a German author and philosopher and the recipient of numerous honors, including the Sigmund Freud Prize by the Deutsche Akademie für Sprache und Dichtung and the Hannah Arendt Prize for Political Thought. He is Professor (Emeritus) of Philosophy at the Ruhr University Bochum and lives in Mainz.