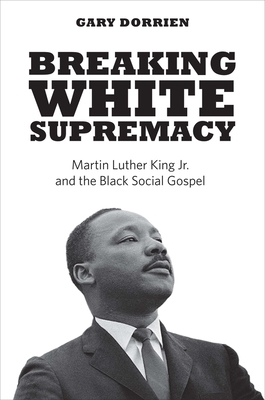 Breaking White Supremacy
Martin Luther King Jr. and the Black Social Gospel
Hardcover

* Individual store prices may vary.
Other Editions of This Title:
Paperback (2/26/2019)
Description
This magisterial follow-up to The New Abolition, a Grawemeyer Award winner, tells the crucial second chapter in the black social gospel's history.

The civil rights movement was one of the most searing developments in modern American history. It abounded with noble visions, resounded with magnificent rhetoric, and ended in nightmarish despair. It won a few legislative victories and had a profound impact on U.S. society, but failed to break white supremacy. The symbol of the movement, Martin Luther King Jr., soared so high that he tends to overwhelm anything associated with him. Yet the tradition that best describes him and other leaders of the civil rights movement has been strangely overlooked.
 
In his latest book, Gary Dorrien continues to unearth the heyday and legacy of the black social gospel, a tradition with a shimmering history, a martyred central figure, and enduring relevance today. This part of the story centers around King and the mid-twentieth-century black church leaders who embraced the progressive, justice-oriented, internationalist social gospel from the beginning of their careers and fulfilled it, inspiring and leading America's greatest liberation movement.
Praise For Breaking White Supremacy: Martin Luther King Jr. and the Black Social Gospel…
"A richly detailed book of much scholarly interest to students and practitioners of church-based social activism."—
Kirkus Reviews
"A must-read for those seeking the origins of Black Lives Matter and other new social justice movements."—John Biefuss,
Commercial Appeal
(Memphis, TN)
"Deeply researched and beautifully written . . . At the same time honest and generous."—John Fea,
Christian Century
"Magnificent . . .
Breaking White Supremacy
interweaves histories of families and institutions, of the black church and its storied presence, of African Americans in Africa and America, of ideas like nonviolence and socialism and uplift, and of the painfully varied ability of American Christianity to produce both a Howard University (or a Martin Luther King Jr.) and the need for them."—Jonathan Tran,
Christian Century
"This is intellectual history at its finest . . . A triumph of careful scholarship, rigorous argument, clear prose, unblinking judgments, and groundbreaking conclusions . . . Indispensable."—P. Harvey,
Choice
"This meticulously researched yet highly readable text will unquestionably remain an authority in the field of Social Christianity for decades to come."—Janine Giordano Drake,
Reading Religion
"A moving, inspiring account"—Robin Friedman,
Midwest Book Review
"Scholars in the areas of religion and politics, black intellectual history, and liberationist theologies will find Dorrien's insights and linkages not only valuable for class use, but as provocations that challenge their own articulations of
breaking white supremacy
. Such discourse is indispensable in an age when racial and ethnic separatism in politics is on the rise."—John Francis Burke,
Journal of Church and State
"The depth and richness of this book is difficult to capture in this brief review. . .This book is critical reading for scholars, clergy, students, and the wider church community interested in the evolution of black theologies and the history of the church's role in regard to racism and white supremacy."—Sheryl A. Kujawa-Holbrook, 
Anglican and Episcopal History
Winner of the Outstanding Academic Title for 2018 award sponsored by Choice
"In this follow up to The New Abolition, Gary Dorrien proves that a sequel can be on par with or even better than the original. Anyone seeking to understand Black religious thought in the era of Black Lives Matter would do well to start here."—Andre E. Johnson, University of Memphis
"Monumental and meticulous, this is a fascinating work of intellectual history. Dorrien's great contribution is to name and to illuminate a tradition— the Black social gospel—that had no name."—William D. Hart, Macalester College  
"This must-read book masterfully tells the stories of African American Christian leaders struggling for racial justice and social democracy in the twentieth century. A powerful inspiration for religious activists today."—Vincent Lloyd, Villanova University  
Yale University Press, 9780300205619, 632pp.
Publication Date: January 9, 2018
About the Author
Gary Dorrien is the Reinhold Niebuhr Professor of Social Ethics at Union Theological Seminary and Professor of Religion at Columbia University. His previous books include The New Abolition.
or
Not Currently Available for Direct Purchase