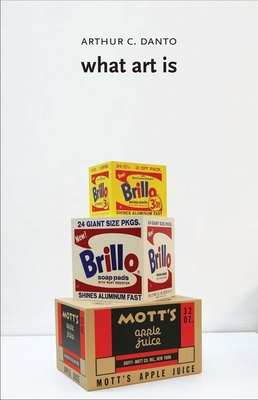 What Art Is
Paperback

* Individual store prices may vary.
Description
A lively meditation on the nature of art by one of America's most celebrated art critics

What is it to be a work of art? Renowned author and critic Arthur C. Danto addresses this fundamental, complex question. Part philosophical monograph and part memoiristic meditation, What Art Is challenges the popular interpretation that art is an indefinable concept, instead bringing to light the properties that constitute universal meaning. Danto argues that despite varied approaches, a work of art is always defined by two essential criteria: meaning and embodiment, as well as one additional criterion contributed by the viewer: interpretation. Danto crafts his argument in an accessible manner that engages with both philosophy and art across genres and eras, beginning with Plato's definition of art in The Republic, and continuing through the progress of art as a series of discoveries, including such innovations as perspective, chiaroscuro, and physiognomy. Danto concludes with a fascinating discussion of Andy Warhol's famous shipping cartons, which are visually indistinguishable from the everyday objects they represent.
Throughout, Danto considers the contributions of philosophers including Descartes, Kant, and Hegel, and artists from Michelangelo and Poussin to Duchamp and Warhol, in this far-reaching examination of the interconnectivity and universality of aesthetic production.
Praise For What Art Is…
"Danto is an elegant and erudite writer, and his sentences go down smoothly."—Deborah Solomon, New York Times Book Review

"Danto was and remains the high priest of pluralism, and arch-critic of the view that art has a distinctive essence."—A. C. Grayling, Financial Times

". . . arguably the most inspired interpreter of the increasingly abstruse art world that emerged during the past half century. In What Art Is, Danto's freewheeling erudition and knack for unpacking complex subjects is on display."—Eric Been, Chicago Tribune ("Favorite Books of 2013")

"Danto's writing is elegant and his insights acute."—Publishers Weekly

"The conclusion [Danto] reaches . . . is elegant in its clearheaded take on an endlessly difficult question. . . . As a critical memoir . . . tracing the particulars of a gifted mind's lasting focus, Danto's latest is a useful addition to a long career."—Publishers Weekly

"The brilliant, eminently entertaining philosopher-critic Arthur C. Danto lays bare an oft-pondered question in What Art Is."—Interior Design

"This rich, filling little book should be savored slowly, one chapter at a time . . . the art critic and philosopher has managed to corral a remarkable breadth of art history and critical thought to the service of his own observations. . . . a persuasive book."—Edith Newhall, ARTnews

"Provocative yet accessible."—Art Business News

"Readers will be delighted when they encounter Danto's disarming clarity, his avoidance of ugly and impenetrable jargon, and his skill in unraveling complex matters without skirting or trivializing ambiguities."—Leon Botstein, Chronicle of Higher Education

Named by the Chronicle of Higher Education as one of the most influential books of the past 20 years

"Elaborating important themes of Danto's influential aesthetics, What Art Is develops them in fascinating new ways, offering luminous interpretations of past masters ranging from Michelangelo and Poussin to Duchamp and Warhol. Written in Danto's engagingly personal voice, the book's essays sparkle with wit, erudition, sensitivity, and a profound love of art whose power is captivatingly contagious."—Richard Shusterman, author of Thinking through the Body: Essays in Somaesthetics

"This miraculously economical book summarizes many decades of reflection and provides an ideal entry into the philosophical system of the most important American-born writer who has discussed visual art."—David Carrier, author of Proust/Warhol: Analytical Philosophy of Art


Yale University Press, 9780300205718, 192pp.
Publication Date: March 11, 2014
About the Author
Arthur C. Danto was Johnsonian Professor of Philosophy Emeritus at Columbia University and art critic for The Nation.