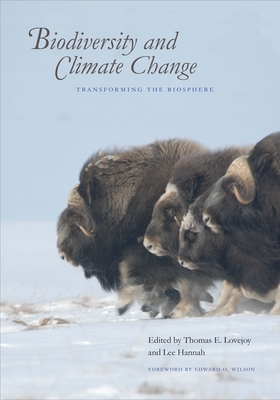 Biodiversity and Climate Change
Transforming the Biosphere
Paperback

* Individual store prices may vary.
Description
An essential, up-to-date look at the critical interactions between biological diversity and climate change that will serve as an immediate call to action

The physical and biological impacts of climate change are dramatic and broad‑ranging. People who care about the planet and manage natural resources urgently need a synthesis of our rapidly growing understanding of these issues. In this all‑new sequel to the 2005 volume Climate Change and Biodiversity, leading experts in the field summarize observed changes, assess what the future holds, and offer suggested responses. From extinction risk to ocean acidification, from the future of the Amazon to changes in ecosystem services, and from geoengineering to the power of ecosystem restoration, this book captures the sweep of climate change transformation of the biosphere.
Praise For Biodiversity and Climate Change: Transforming the Biosphere…
"An excellent, thorough, and detailed snapshot of our current understand of how human-induced climate change is affecting the living world."—Nora Mitchell, Plant Science Bulletin
"Superbly authoritative. . . . An invaluable resource for scientists and members of the public who seek a more through understanding of two of the the critical existential threats that we face. Its contributors are top experts. It is well written: well organized, well documented, and well indexed. Your copy will become well thumbed."—Paul R. Ehrlich, Quarterly Review of Biology
"Thomas E. Lovejoy and Lee Hannah have convened an impressive international cadre of colleagues to write a state-of-the-science volume about climate-change impacts on the diversity of life on Earth."—Cristina Eisenberg, ESA Bulletin
"This book isn't just a call to heed the science; it's a call to citizens everywhere to live up to their responsibilities and protect this fragile planet we share."—John Kerry, United States Secretary of State, 2013-2017
"Mankind's heedless extraction and pollution of our planet's resources is tearing apart the web of natural systems that has sustained our species throughout the long course of human development. Tom Lovejoy and Lee Hannah have assembled a book that chronicles these emerging ecological and climatic disasters; yet gives hope that we can still help Earth's systems heal, and blunt the suffering of coming generations."—Sheldon Whitehouse, United States Senator for Rhode Island
"Biodiversity and Climate Change: Transforming the Biosphere serves as a comprehensiveaccount of this greatest of threatsto humanity's future. It will serve both as atextbook and a call to action."—From the Foreword by Edward O. Wilson
"An authoritative analysis of the increasing speed and scale of climate change impacts on our biodiversity, together with an illuminating set of specific ways to use our biodiversity to address climate change. A powerful coupling."—Christiana Figueres, Executive Secretary UN Climate Change Convention 2010 – 2016
"Lovejoy and Hannah generate a compelling story of the species extinctions that will accompany ongoing, rapid changes in Earth's climate, coupled with the unrelenting pressure of human population growth."—William H. Schlesinger, President Emeritus, the Cary Institute of Ecosystem Studies
Yale University Press, 9780300206111, 416pp.
Publication Date: January 8, 2019
About the Author
Thomas E. Lovejoy is university professor at George Mason University. Lee Hannah is senior scientist at the Moore Center for Science, Conservation International and adjunct professor, Bren School of Environmental Science and Management at the University of California, Santa Barbara.
or
Not Currently Available for Direct Purchase