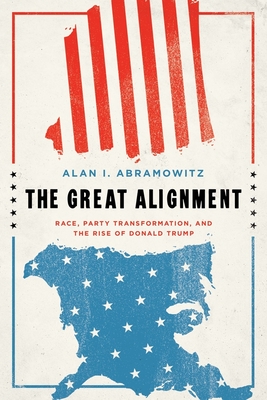 The Great Alignment (Hardcover)
Race, Party Transformation, and the Rise of Donald Trump
Yale University Press, 9780300207132, 216pp.
Publication Date: June 19, 2018
Other Editions of This Title:
Paperback (6/25/2019)
MP3 CD (7/18/2018)
Compact Disc (7/18/2018)
* Individual store prices may vary.
Description
Alan I. Abramowitz has emerged as a leading spokesman for the view that our current political divide is not confined to a small group of elites and activists but a key feature of the American social and cultural landscape. The polarization of the political and media elites, he argues, arose and persists because it accurately reflects the state of American society. Here, he goes further: the polarization is unique in modern U.S. history. Today's party divide reflects an unprecedented alignment of many different divides: racial and ethnic, religious, ideological, and geographic. Abramowitz shows how the partisan alignment arose out of the breakup of the old New Deal coalition; introduces the most important difference between our current era and past eras, the rise of "negative partisanship"; explains how this phenomenon paved the way for the Trump presidency; and examines why our polarization could even grow deeper. This statistically based analysis shows that racial anxiety is by far a better predictor of support for Donald Trump than any other factor, including economic discontent.
About the Author
Alan I. Abramowitz is Alben W. Barkley Professor of Political Science at Emory University.
Praise For The Great Alignment: Race, Party Transformation, and the Rise of Donald Trump…
"Abramowitz doesn't polemicize; he simply lays out the facts. But the story he tells suggests that the essential first step to getting past extremism and polarization is the defeat of today's intemperate brand of Republicanism, embodied by the most intemperate president in our history."—E.J. Dionne, The Washington Post
"Clear and comprehensive. . . . Abramowitz's detailed yet concise analysis is accessible even for novices, and it offers a critical lesson on the American electorate and politics in a polarized nation."—Publishers Weekly
"Copious survey research and statistical analysis about why the divide between Republican and Democratic voters is more contentious than ever and how that affects not only the presidency and Congress, but also state and local elections . . . A solid academic study offering scant hope for the future."—Kirkus Reviews
"The book delivers a feast of important findings for students of US politics."—Choice
"Alan Abramowitz is dead-on in his analysis of the deep polarization that characterizes American society. A majority of voters are dug in, with their party choice reinforced by race, gender, age, social issues, ideology, religion, even their location in the U.S. Some analysts suggest well-meaning but superficial solutions, but Abramowitz is rightly skeptical. Like it or not, polarization is probably going to define our politics for many years to come."—Larry J. Sabato, Director, UVA Center for Politics
 
"Nobody is better at analyzing and documenting American public opinion than Alan Abramowitz. In this invaluable book, he shows with precision, power and clarity what has happened to transform American politics over the past decades. The consequences are real, dramatic—and terrifying."—Norman Ornstein, coauthor of One Nation After Trump: A Guide for the Perplexed, the Disillusioned, the Desperate and the Not-Yet-Deported 
"Abramowitz's lucid analysis makes a major contribution to our understanding of the most salient and, to many, troubling phenomenon in current American politics."—Gary Jacobson, Distinguished Professor Emeritus, University of California, San Diego