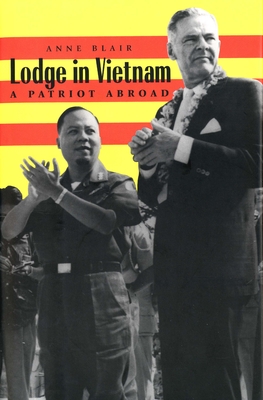 Lodge in Vietnam
A Patriot Abroad
Paperback

* Individual store prices may vary.
Other Editions of This Title:
Hardcover (7/26/1995)
Description
Henry Cabot Lodge became United States ambassador to South Vietnam in August 1963, a critical period in the evolution of American policy there. During the first of Lodge's two embassies in Saigon, a U.S. government-approved coup overthrew President Diem of South Vietnam and another U.S.-inspired coup brought to power a Vietnamese general trained in America. This book focuses on Lodge's ambassadorship from 1963 to June 1964, examining the constraints and possibilities inherent in the Vietnam situation at that time and revealing the role Lodge played in shaping President Lyndon Johnson's 1965 decision to commit U.S. troops to the war.

Anne Blair is the first to draw on Lodge's collected papers, including an unpublished memoir, as well as on previously unavailable U.S. Saigon Embassy reports and on interviews with former U.S. officials and others who served with Lodge in Vietnam and Washington. According to Blair, Lodge felt strongly that U.S. troops should not be involved in the war, but his sense of the proper conduct of foreign affairs prevented him from opening a public debate on the matter. In addition, after the coup against Diem, Lodge regarded his mission in Saigon as completed and was disengaged in the vital 1964 period when the U.S. government should have reviewed its aims and vital stakes in South Vietnam. Lodge took up the Saigon mission and stayed with it because he was a patriot. But, Blair concludes, his good intentions were not coupled with effective policymaking, and the results proved disastrous for the future.
Yale University Press, 9780300207484, 216pp.
Publication Date: January 21, 2014
About the Author
Anne Blair is a research fellow at the National Centre for Australian Studies and teaches Southeast Asian and American history in Melbourne.