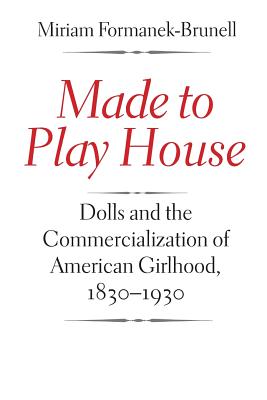 Made to Play House
Dolls and the Commercialization of American Girlhood, 1830-1930
Paperback

* Individual store prices may vary.
Other Editions of This Title:
Paperback (11/30/1998)
Description
Dolls have long been perceived as symbols of domesticity, maternity, and materialism, designed by men and loved by girls who wanted to "play house." In this engagingly written and illustrated social history of the American doll industry, Miriam Formanek-Brunell shows that this has not always been the case. Drawing on a wide variety of contemporary sources—including popular magazines, advertising, autobiographies, juvenile literature, patents, photographs, and the dolls themselves—Formanek-Brunell traces the history of the doll industry back to its beginnings, a time when American men, women, and girls each claimed the right to construct dolls and gender.

Formanek-Brunell describes how dolls and doll play changed over time: antebellum rag dolls taught sewing skills; Gilded Age fashion dolls inculcated formal social rituals; Progressive Era dolls promoted health and active play; and the realistic baby dolls of the 1920s fostered girls' maternal impulses. She discusses how the aesthetic values and business methods of women doll-makers differed from those of their male counterparts, and she describes, for example, Martha Chase, who made America's first soft, sanitary cloth dolls, and Rose O'Neill, inventor of the Kewpie doll. According to Formanek-Brunell, although American businessmen ultimately dominated the industry with dolls they marketed as symbols of an idealized feminine domesticity, businesswomen presented an alternative vision of gender for both girls and boys through a variety of dolls they manufactured themselves.

Yale University Press, 9780300207583, 248pp.
Publication Date: January 21, 2014
About the Author
Miriam Formanek-Brunell is assistant professor of history at Wellesley College.