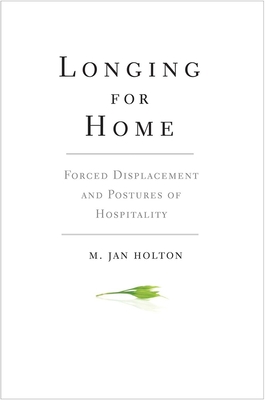 Longing for Home (Hardcover)
Forced Displacement and Postures of Hospitality
Yale University Press, 9780300207620, 240pp.
Publication Date: June 28, 2016
* Individual store prices may vary.
Description
What is it about the concept of "home" that makes its loss so profound and devastating, and how should the trauma of exile and alienation be approached theologically? M. Jan Holton examines the psychological, social, and theological impact of forced displacement on communities in the Congo and South Sudan and on indigenous Batwa tribespersons in Uganda, as well as on homeless U.S. citizens and on U.S. soldiers returning from the wars in Afghanistan and Iraq. She draws on ethnographic work in Africa, extensive research in practical theology, sociology, and psychology, as well as on professional work and personal experiences in America and abroad.  In doing so she explores how forced displacement disrupts one's connection with the home place and the profound characteristics it fosters that can help people lean toward flourishing spiritually and psychologically throughout their lifetime. Displacement invites a social alienation that can become deeply institutionalized, threatening the moral well being of us all. Longing For Home offers a frame for understanding how communities can respond to refugees and various homeless populations by cultivating hospitality outside of their own comfort zones. This essential study addresses an urgent interreligious global concern and Holton's thoughtful and compelling work offers a constructive model for a sustained practical response.

About the Author
M. Jan Holton served on the faculty at Yale Divinity School in the area of pastoral theology, care, and counseling. She is the author of Building the Resilient Community: Lessons from the Lost Boys of Sudan, a study that focuses on field research in South Sudan.
Praise For Longing for Home: Forced Displacement and Postures of Hospitality…
"This provocative examination of such romantic notions as 'home' and 'hospitality' complicates our moral and ethical responses to forced displacements of various types.  Holton offers a critical, pastoral, and theological engagement with lived realities in the midst of chaos and crisis."—Joretta Marshall, Brite Divinity School
— Joretta Marshall
"Holton's pastoral theology explores "homelessness" in groundbreaking ways, from forced displacements in Africa and the U.S. to American soldiers with PTSD.  The resulting call for hospitality is radicalized in deeply compelling ways."— Mary McClintock Fulkerson, Duke Divinity School

— Mary McClintock Fulkerson
"In the face of the current global refugee crisis, this fascinating, grounded, and inspiring book creatively draws on the actual experiences of displaced people to offer practical theological responses to the loss of home."— Emmanuel Y. Lartey, Emory University

— Emmanuel Y. Lartey
"Holton's integration of social theory, first-person narratives, and theological reflection guides us toward a deeply pastoral understanding of woundedness, moral injury, and chronic powerlessness. Her case for an ethical mandate of compassionate hospitality is compelling and timely."—Carolyn J. Sharp, Yale Divinity School

— Carolyn J. Sharp
"The issue of displaced persons and the tragedy of enforced homelessness is sharply at the forefront of many of our lives today. As countries seemingly incessantly engage in war after war, the human consequences of violence in terms of displaced people is immense and deeply painful. Jan Holton refuses to let the apparent hopelessness of the moment win the day."—John Swinton, University of Aberdeen

— John Swinton
"This deeply committed and passionate work enables us to view 'loss of home' as one of the most important social and religious questions of our day."— Heather Walton, University of Glasgow

— Heather Walton
"[Holton] makes a significant contribution to the study and practice of pastoral theology, practical theology, and religion generally, especially in the light of social justice."—Choice
— Choice
"Holton directs us toward more responsible discernment of social reality and more active engagement on behalf of the displaced."—Christian Century
— Christian Century
or
Not Currently Available for Direct Purchase