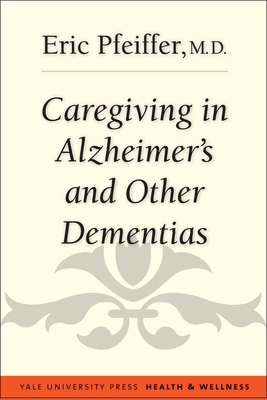 Caregiving in Alzheimer's and Other Dementias (Yale University Press Health & Wellness)
Paperback

* Individual store prices may vary.
Description
An essential guide for everyone who provides care for a person with Alzheimer's disease or other dementias

Practical. Easy to read. Comprehensive. Encouraging. Accurate. All of these words describe this indispensable book that belongs in the hands of all family members and other caretakers of people who have been diagnosed with Alzheimer's disease or other dementias.

Dr. Eric Pfeiffer, a physician who has devoted thirty years to patients suffering from all forms of dementia, here distills the wisdom of those years for the benefit of caregivers confronting some of life's most challenging days. Dr. Pfeiffer's genuine compassion and wise advice are certain not only to reduce caregiver stress but also to improve the patient's quality of life.
 
In these pages are specific tips for all stages of caregiving, from the initial realization of the problem through mild, moderate, and severe stages of dementia, and even beyond, when a caregiver begins to resume a full life after the patient's death. Dr. Pfeiffer identifies specific problems and provides practical solutions. He explains the importance of support groups and many other means of dealing with stressful days. For experienced caregivers and those new to the challenges, this book will be a profoundly useful guide to coping successfully.
Praise For Caregiving in Alzheimer's and Other Dementias (Yale University Press Health & Wellness)…
"It's hard to understand that world [of Alzheimer's] unless you are in the middle of it. But Dr. Pfeiffer . . . has taken us by the hand and given us a step-by-step guide of how to walk that path. He has equipped us with courage and armed us with information. I am grateful that this most useful tool is now available as other caregivers make their way through this puzzling disease."—Gayle Sierens, from the Foreword
— Gayle Sierens

"A rich source of information by an acclaimed physician/researcher. The most complete reference for family caregivers of persons with dementia; destined to become the primary resource in the field."—Myron Weiner, M.D., University of Texas Southwestern Medical Center
— Myron Weiner

"This is a book that should be read by anyone caring for an Alzheimer's patient. It can and will make a difference in the quality of life for both the patients and their loved ones as they deal with the final goodbye."—Jeffree Wyn Itrich, Alzheimer's Disease Cooperative Study, UC San Diego
— Jeffree Wyn Itrich

"Dr. Pfeiffer applies his vast experience working with Alzheimer's patients and their caregivers in providing a clinically and scientifically informed guide for caregivers that is both highly practical and readable."—Barnett S. Meyers, M.D., Weill Cornell Medical College
— Barnett S. Meyers

"Caregiving in Alzheimer's and Other Dementias by Dr. Eric Pfeiffer is a superb guide to the range of issues that caregivers face on a daily basis, written by a master clinician and researcher. It is comprehensive yet concise, with the humane voice of a caring physician who knows the disease inside out."—Marc Agronin, M.D., author of How We Age: A Doctor's Journey into the Heart of Growing Old

— Marc Agronin

"Bracing in its ability to be clear-eyed and reassuring at the same time. If I were coming fresh to the terrifying diagnosis of dementia in a loved one, this is the kind of voice I would want in my ear."—Barbara Peters Smith, Sarasota Herald Tribune
— Barbara Peters Smith
Yale University Press, 9780300207989, 288pp.
Publication Date: April 28, 2015
About the Author
Eric Pfeiffer, M.D., is Emeritus Professor of Psychiatry and founding director of the Eric Pfeiffer Suncoast Alzheimer's Center, University of South Florida College of Medicine. He has been repeatedly honored for his work in geriatric psychiatry and is the author of major medical textbooks as well as popular consumer health books. He lives in Tampa, FL.
or
Not Currently Available for Direct Purchase