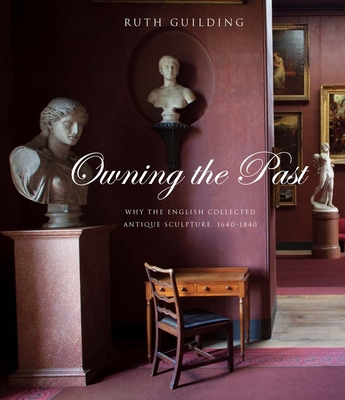 Owning the Past
Why the English Collected Antique Sculpture, 1640–1840
Hardcover

* Individual store prices may vary.
Description
In a lively re-examination of the British collectors who bankrupted themselves to possess antique marble statues, Owning the Past chronicles a story of pride, rivalry, snobbery, and myopic obsession with posterity and possession. Analyzing the motives that drove "Marble Mania" in England from the 17th through the early 19th century, Ruth Guilding examines how the trend of collecting antique sculpture entrenches the ideals of connoisseurship and taste, exacerbates socioeconomic inequities, and serves nationalist propaganda. Even today, for the individuals or regimes that possess them, classical statuary performs as a symbol of authority or as the trophies of a "civilized" power. From Adolf Hitler posing for the press beside an ancient copy of Myron's Discobolus to the 2002 sale of the Newby Venus for a record price of about $13 million to the Emir of Qatar, marble mania remains unabated. With insider access to private collections, Guilding writes with verve and searing insight into this absorbing fixation.
Praise For Owning the Past: Why the English Collected Antique Sculpture, 1640–1840…
'The result of years of research and exclusive access to little-known private collections, Guilding's book tackles the bankruptcies, rivalries, unbridled snobbery and social snakery in the world of collecting. More riveting than Downton Abbey.'—Vanity Fair 
— Vanity Fair

'Most unusually, the actual reach of Ruth Guilding's mighty and compelling new study is far wider than the already large subject of 'Why the English Collected Antique Sculpture, 1640-1840.'— David Ekserdjian, The Spectator
— David Ekserdjian

'Beautifully illustrated, particularly with installation photographs both old and new, this enthralling book has a lifetime's use ahead as the intelligent wanderer's companion.'—Brian Sewell, Evening Standard.

— Brian Sewell

'For anyone wishing to pursue an interest in the subject, there could hardly be a more alluring or stimulating guide than this impressive work.'—Giles Waterfield, Art Newspaper.

— Giles Waterfield
Paul Mellon Centre, 9780300208191, 412pp.
Publication Date: January 27, 2015
About the Author
Ruth Guilding is an independent scholar and critic.
or
Not Currently Available for Direct Purchase