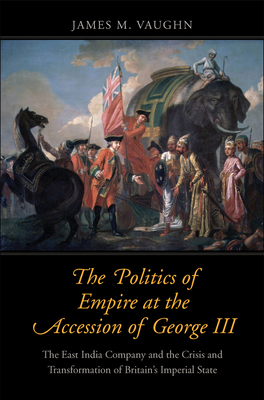 The Politics of Empire at the Accession of George III
The East India Company and the Crisis and Transformation of Britain's Imperial State (The Lewis Walpole Series in Eighteenth-Century Culture and History)
Hardcover

* Individual store prices may vary.
Description
An important revisionist history that casts eighteenth-century British politics and imperial expansion in a new light
 
In this bold debut work, historian James M. Vaughn challenges the scholarly consensus that British India and the Second Empire were founded in "a fit of absence of mind." He instead argues that the origins of the Raj and the largest empire of the modern world were rooted in political conflicts and movements in Britain. It was British conservatives who shaped the Second Empire into one of conquest and dominion, emphasizing the extraction of resources and the subjugation of colonial populations. Drawing on a wide array of sources, Vaughn shows how the East India Company was transformed from a corporation into an imperial power in the service of British political forces opposed to the rising radicalism of the period. The Company's dominion in Bengal, where it raised territorial revenue and maintained a large army, was an autocratic bulwark of Britain's established order. A major work of political and imperial history, this volume offers an important new understanding of the era and its global ramifications.
Praise For The Politics of Empire at the Accession of George III: The East India Company and the Crisis and Transformation of Britain's Imperial State (The Lewis Walpole Series in Eighteenth-Century Culture and History)…
"This exceptionally insightful and richly provocative study deserves to be widely read and debated."—Asheesh Kapur Siddique, Journal of British Studies
"Why did the British empire change in the later eighteenth century from one predominantly of liberty to one predominantly of authority and control? James Vaughn's book is a most ambitious attempt to resolve this great problem. All scholars will in future have to pay close attention to his findings." - P. J. Marshall, author of The Making and Unmaking of Empires
"Carefully researched and argued, this courageous book brings the radical Whigs and imperialism into sharp focus. The emphasis on capitalism and bourgeois ideology unapologetically reminds us of the British Marxists, a correction long overdue. Let the debate begin!" - Margaret C. Jacob, author of The Radical Enlightenment
 
"This is an immensely important work which will have a powerful and contentious impact. Vaughn takes a fresh approach and lays out a persuasive case which will make his work a clear leader in its field."--Allan MacInnes, University of Strathclyde
Yale University Press, 9780300208269, 320pp.
Publication Date: February 26, 2019
About the Author
James M. Vaughn is assistant professor of history at the University of Texas at Austin and a former postdoctoral fellow at the MacMillan Center at Yale University.
or
Not Currently Available for Direct Purchase