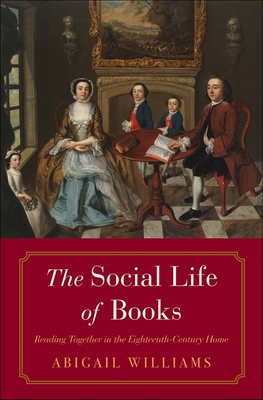 The Social Life of Books (Hardcover)
Reading Together in the Eighteenth-Century Home (The Lewis Walpole Series in Eighteenth-Century Culture and History)
Yale University Press, 9780300208290, 368pp.
Publication Date: June 27, 2017
Other Editions of This Title:
Paperback (11/6/2018)
* Individual store prices may vary.
Description
A vivid exploration of the evolution of reading as an essential social and domestic activity during the eighteenth century

Two centuries before the advent of radio, television, and motion pictures, books were a cherished form of popular entertainment and an integral component of domestic social life. In this fascinating and vivid history, Abigail Williams explores the ways in which shared reading shaped the lives and literary culture of the time, offering new perspectives on how books have been used by their readers, and the part they have played in middle-class homes and families.
 
Drawing on marginalia, letters and diaries, library catalogues, elocution manuals, subscription lists, and more, Williams offers fresh and fascinating insights into reading, performance, and the history of middle-class home life.
About the Author
Abigail Williams is Lord White Fellow and Professor of Eighteenth-Century Studies at St. Peter's College, University of Oxford.
Praise For The Social Life of Books: Reading Together in the Eighteenth-Century Home (The Lewis Walpole Series in Eighteenth-Century Culture and History)…
"A lively survey. . . . Williams's book is welcome because her research and insights make us conscious of how we, today, use books."—John Sutherland, New York Times Book Review
"Williams's charming pageant of anecdotes, as revealed in diaries, letters and marginalia, conjures a world strikingly different from our own but surprisingly similar in many ways, a time when reading was on the rise and whole worlds sprang up around it."—Washington Post
"The inestimable value of Williams's book is that it offers us, beyond the shrewd and apt commentary, new things to understand and to feel among the sheer diversity and number of its eloquent lives."—Min Wild, Times Literary Supplement
"This lively and original study, richly documented and happily free of jargon… has brought to life the story of how print worked on people in the past."—Toby Barnard, Dublin Review of Books
"The prose is never less than clear and engaging, the scholarship is meticulous, and the material is both accessible to rank beginners and useful for old hands. This major work will change the way one thinks about reading, particularly in 18th-century Britain."—Choice
"[A] charming study."—New Criterion
"A treasure trove. . . . This book should have a sweeping impact on future scholarship."—Patricia Michaelson, Eighteenth Century Fiction
"This book confidently explores a fascinating topic. Its strength lies in its sheer wealth of examples, especially the many cases recovered from provincial archives that freshly illustrate the habits and eccentricities of eighteenth-century readers. This is a book that any reader with an interest in the eighteenth century will enjoy and value."—John Mullan, University College London
"A comprehensive account, impressively documented and vividly illustrated, of the social history of reading, by an author whose own reading skills are matched by her brilliantly mastered erudition."—Claude Rawson, Maynard Mack Professor of English Emeritus, Yale University
"The Social Life of Books is a magnificent, genuinely innovative achievement that will appeal not only to scholars of literature and book history, not only to historians, but to all lovers of books and reading."—Markman Ellis, Queen Mary University of London
 
"This is a magnificent achievement. Williams approaches the history of reading from a wide purview, offering research into the price of books, on literacy, and on circulating libraries, book shops, book clubs and other forms of book sharing, including book theft. It makes a very compelling case for the cultures of sociable reading in eighteenth-century Britain."—Markman Ellis, Queen Mary University of London