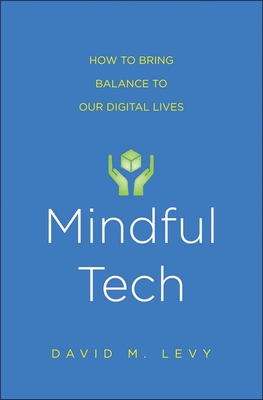 Mindful Tech
How to Bring Balance to Our Digital Lives
Hardcover

* Individual store prices may vary.
Other Editions of This Title:
Paperback (3/28/2017)
Description
Through a series of lucid and engaging exercises, readers are invited to discover healthier and more effective digital practices

From email to smart phones, and from social media to Google searches, digital technologies have transformed the way we learn, entertain ourselves, socialize, and work. Despite their usefulness, these technologies have often led to information overload, stress, and distraction. In recent years many of us have begun to look at the pluses and minuses of our online lives and to ask how we might more skillfully use the tools we've developed.
 
David M. Levy, who has lived his life between the "fast world" of high tech and the "slow world" of contemplation, offers a welcome guide to being more relaxed, attentive, and emotionally balanced, and more effective, while online. In a series of exercises carefully designed to help readers observe and reflect on their own use, Levy has readers watch themselves closely while emailing and while multitasking, and also to experiment with unplugging for a specified period. Never prescriptive, the book opens up new avenues for self-inquiry and will allow readers—in the workplace, in the classroom, and in the privacy of their homes—to make meaningful and powerful changes.
Praise For Mindful Tech: How to Bring Balance to Our Digital Lives…
"This book is at once highly personal and intensely practical and it convinced me that it can play an important part in helping readers assess and address the extent of imbalance in their relationships with communications technology."—John Gilbey, Times Higher Education
— John Gilbey

"David Levy's practical, elegant and insightful guide reminds us that we are the true sources of balance in our lives. It is a sheer pleasure to read and an inspiration to live by."— Daniel Barbezat, Amherst College

— Daniel Barbezat

"David Levy provides a unique and invaluable resource to help us all better understand how our tech-devices and tools affect our consciousness. Mindful Tech is an every-person's guidebook to how we can relate to technology with more skill and wisdom."— André Vellino, University of Ottawa

— André Vellino

"This book is an invitation to become a clear-eyed observer of your digital life. If you want to make the most of this always-on world, I suggest you accept it."— Mónica Guzmán, GeekWire
— Mónica Guzmán

"With clear, wise, and gentle guidance David Levy teaches us the essential "craft" of aligning our deepest values with how we engage with technology. Simple and profound tools and questions, from someone who's spent a lifetime walking the path where wisdom and technology dance seamlessly together."—Marc Lesser, CEO, Search Inside Yourself Leadership Institute

— Marc Lesser

"The debate concerning the pros and cons of our new digital life is intense and books on topic are plentiful. David Levy offers a very different and unique approach to these issues, one that reveals a profound respect for human freedom and inspires an ethical inquiry as to how we consciously choose to live our lives. This is a masterful book."—Arthur Zajonc, Mind & Life Institute
— Arthur Zajonc
Yale University Press, 9780300208313, 256pp.
Publication Date: January 12, 2016
About the Author
David M. Levy is a professor at the Information School of the University of Washington. He has for many years led efforts to bring contemplative practices and perspectives into higher education.
or
Not Currently Available for Direct Purchase