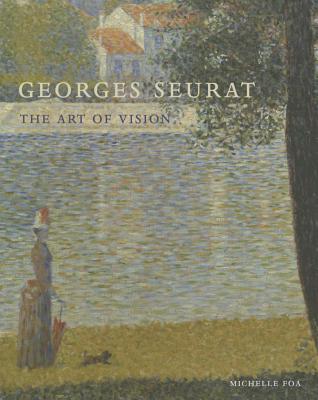 Georges Seurat (Hardcover)
The Art of Vision
Yale University Press, 9780300208351, 248pp.
Publication Date: July 14, 2015
* Individual store prices may vary.
Description
This revelatory study of Georges Seurat (1859–1891) explores the artist's profound interest in theories of visual perception and analyzes how they influenced his celebrated seascape, urban, and suburban scenes. While Seurat is known for his innovative use of color theory to develop his pointillist technique, this book is the first to underscore the centrality of diverse ideas about vision to his seascapes, figural paintings, and drawings. Michelle Foa highlights the importance of the scientist Hermann von Helmholtz, whose work on the physiology of vision directly shaped the artist's approach. Foa contends that Seurat's body of work constitutes a far-reaching investigation into various modes of visual engagement with the world and into the different states of mind that visual experiences can produce. Foa's analysis also brings to light Seurat's sustained exploration of long-standing and new forms of illusionism in art. Beautifully illustrated with more than 140 paintings and drawings, this book serves as an essential reference on Seurat. 

About the Author
Michelle Foa is assistant professor of art history at Tulane University. 
Praise For Georges Seurat: The Art of Vision…
"Michelle Foa has written a stunning and important book, paradigm-changing and challenging. It will be the book on Seurat that everyone will have to read."—James H. Rubin, Stony Brook University
— James H. Rubin
"Michelle Foa makes a compelling case that Seurat drew deeply from the work of scientist Hermann Helmholtz in physiological optics, not only as regards color theory and pointillism but also concerning the integration of spatial views across time, as seen in a series of harbor views, or in Seurat's exploration of depth cues in his figural works. Foa moves between artistic practice and visual theorizing with a depth of understanding that is rarely achieved."—Gary Hatfield, University of Pennsylvania
— Gary Hatfield
"Georges Seurat: The Art of Vision is almost certainly the most important book on Seurat in over a decade.... No serious account of late nineteenth-century art can afford to ignore it."—Marnin Young, CAA Reviews
— Marnin Young
"Foa Skillfully covers new ground in Seurat studies. This work will appeal to art scholars and students as well as the general reader interested in 19th-century French painting and its influence in the new advancements on ways of seeing pictures and their meaning in the real world.—Ellen Bates, Library Journal
— Ellen Bates