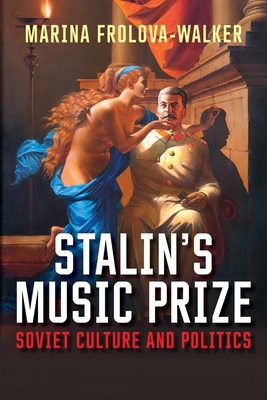 Stalin's Music Prize
Soviet Culture and Politics
Hardcover

* Individual store prices may vary.
Description
Marina Frolova-Walker's fascinating history takes a new look at musical life in Stalin's Soviet Union. The author focuses on the musicians and composers who received Stalin Prizes, awarded annually to artists whose work was thought to represent the best in Soviet culture. This revealing study sheds new light on the Communist leader's personal tastes, the lives and careers of those honored, including multiple-recipients Prokofiev and Shostakovich, and the elusive artistic concept of "Socialist Realism," offering the most comprehensive examination to date of the relationship between music and the Soviet state from 1940 through 1954.
Praise For Stalin's Music Prize: Soviet Culture and Politics…
"A great attraction of the book is the wit and enthusiasm that suffuse its tone. . . A thoroughly engaging style as well as a consummate mastery in handling archival materials makes this book as enjoyable a read for a wide audience as it is indispensable for specialists."—Michelle Assay, SEER 

"This is a valuable in-depth look at Russian music during a pivotal period of history."—Choice

"Frolova's writing is thorough, and every fact on which her description and analysis are based is carefully substantiated in documentation; however, what makes the reading an exciting experience is her ability to interpret these facts and her cleverly inserted opinions that are often spiced with dissimulated (and not so dissimulated) personal, often ironic comments and interpretations."—Esti Sheinberg, Slavic and East European Journal

"Frolova-Walker's book is an integral contribution to Slavic and music studies, providing an elaborate and riveting narrative of how Stalin's Music Prize was a vital part of the complexity of musical-cultural politics during Stalinism."—Joan Titus, Russian Review

"This book sheds new light on the intricacies of the process, and illustrates an elaborate framework on the purpose, of the music awards. Engaging throughout, Stalin's Music Prize is rigorously researched and successfully rebalances underlying perceptions of state power and music culture in the Soviet Union under Stalin."—James Taylor, Notes Quarterly Journal
 

"[Stalin's Music Prize is] an engaging and pleasurable tour through the middle decades of twentieth-century Soviet musical life."—David G. Tompkins, Slavic Review



"Thanks to Frolova-Walker's engaging and readable written style, such material is brought to life, providing a rich and engrossing narrative of Soviet cultural history during this turbulent period."—Erik Levi, BBC Music
— Erik Levi

'Frolova-Walker's study of the Stalin Prize is permeated with the joy of discovery. Although the subject is tremendous, since it deals with the machinations of power under a dictatorial regime, the author delights in what she calls time travelling and eavesdropping. The amount of sources in which actual conversation had been preserved verbatim enables the historian a fly-on-the-wall perspective that leads her up to Stalin's writing desk.' - 
Francis Maes, European History Quarterly
— Francis Maes

'Stalin's Music Prize represents a milestone in the literature on Soviet music and cultural politics.' - Leah Godman, Journal of the American Musicological Society 
 
— Leah Godman

"These books give fuller, finer-grained and better-shaded accounts of Soviet policy ups and downs and their impact on musicians than any previous study."—Richard Taruskin, TLS
— Richard Taruskin
Yale University Press, 9780300208849, 384pp.
Publication Date: May 24, 2016
About the Author
Marina Frolova-Walker was born and educated in Moscow, where she studied at the Moscow Conservatoire. She is professor of music history at Cambridge University, and a Fellow of Clare College.