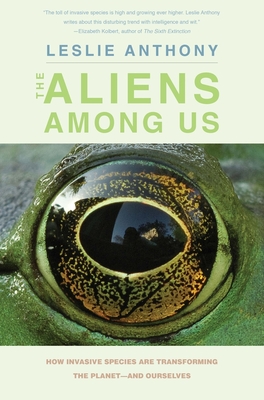 The Aliens Among Us
How Invasive Species Are Transforming the Planet—and Ourselves
Hardcover

* Individual store prices may vary.
Other Editions of This Title:
Compact Disc (10/31/2017)
MP3 CD (10/31/2017)
MP3 CD (10/31/2017)
Compact Disc (10/31/2017)
Description
A thoughtful, accessible look at the rapidly growing issue of invasive plants, animals, and microbes around the globe with a focus on the scientific issues and ecological, health, and other challenges

From an award-winning adventure and science journalist comes an eye-opening exploration of a burgeoning environmental phenomenon and the science coalescing around it. Leslie Anthony leads readers on adventures physical and philosophical as he explores how and why invasive species are hijacking ecosystems around the globe. Weaving science, travel, history, and humor with diverse examples to chart and describe the phases of species invasion and human response, Anthony introduces field researchers and managers who seek to understand the biological, social, and economic aspects of this complex issue, and whose work collectively suggests the emergence of a global shadow economy centered on invasives.
 
With tales of pythons in the Everglades, Asian carp and lamprey in the Great Lakes, Japanese knotweed seemingly everywhere, and the invasive organisms we don't see—pathogens and microbes such as the Zika virus—this book rivets attention on a new ecological reality. 
Praise For The Aliens Among Us: How Invasive Species Are Transforming the Planet—and Ourselves…
"This witty, keenly observant, and fearless title, with photographs and source list, is proof that Anthony is a writer to watch."—Booklist

"[Anthony] introduces the essential concepts of a field that is becoming a major branch of study—and not a moment too soon."—Science

"An entertaining account of the science, impact, and management of invasive species, aimed to appeal broadly to scientists and non-scientists alike."—Biological Invasions

"A thoroughly engaging book that draws from Anthony's fieldwork and interviews with scientists, community volunteers, government researchers and policy makers."—Science News

"Part memoir, part science study, Anthony shows that there has never been a more important time to work together to prevent invasive species from hijacking ecosystems around the globe."—Pique magazine

"A fine introduction to the problems caused by invasive species and the Sisyphean efforts to control them."—Winnipeg Free Press

"A timely journalistic survey of current scientific studies of invasive species and several major programs to manage them."—Choice

"From mosquito-borne viruses to giant Burmese pythons, Leslie Anthony provides an overview of the growing problem imposed by nonnative species. . . . This book should be read by scientists, decisionmakers and the general public."—Ronaldo Sousa, Quarterly Review of Biology

"The toll of invasive species is high and growing ever higher. Leslie Anthony writes about this disturbing trend with intelligence and wit."—Elizabeth Kolbert, author of The Sixth Extinction

"A gripping, accurate account of how biological invasions threaten all of our ecosystems and what we can do about them."—Daniel Simberloff, author of Invasive Species - What Everyone Needs to Know

"This book not only should be published, but quickly—the expense and chaos resulting from invasive species is enormous and increasing by the minute."—Margaret D. Lowman, Director of Global Initiatives, California Academy of Sciences, and author of Life in the Treetops: Adventures of a Woman in Field Biology

"The Aliens Among Us is a refreshingly balanced and timely account of global invasive species issues. Leslie Anthony conveys the complexity and urgency of invasive species management, while showing how the science of invasion informs basic ecological theory."—Lauren Smith-Ramesh, National Institute for Mathematical and Biological Synthesis

"A personal, passionate reckoning with invasive species, these stories from the frontlines of the biodiversity crisis will resonate with every stroke of the paddle or step along the nature trail."—James Barilla, author of My Backyard Jungle: The Adventures of an Urban Wildlife Lover Who Turned His Yard into Habitat and Learned to Live with It


Yale University Press, 9780300208900, 400pp.
Publication Date: October 24, 2017
About the Author
Leslie Anthony is an award‑winning science and adventure journalist, and author of several books. His work has appeared in Explore, Canadian Geographic, and numerous other publications.
or
Not Currently Available for Direct Purchase