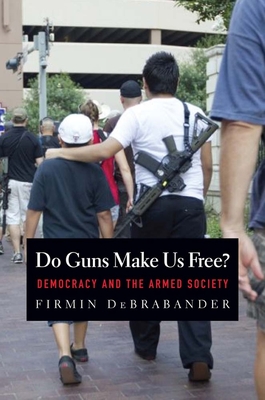 Do Guns Make Us Free?
Democracy and the Armed Society
Hardcover

* Individual store prices may vary.
Description
An essential examination of the political and philosophical arguments of the contemporary gun rights movement in the United States

Possibly the most emotionally charged debate taking place in the United States today centers on the Second Amendment to the Constitution and the rights of citizens to bear arms. In the wake of the Sandy Hook school massacre in Connecticut, the gun rights movement, headed by the National Rifle Association, appears more intractable than ever in its fight against gun control laws. The core argument of Second Amendment advocates is that the proliferation of firearms is essential to maintaining freedom in America, providing private citizens with a defense against possible government tyranny, and thus safeguarding all our other rights. But is this argument valid? Do guns indeed make us free?
 
In this insightful and eye-opening analysis, the first philosophical examination of every aspect of the contentious and uniquely American debate over guns, Firmin DeBrabander examines the claims offered in favor of unchecked gun ownership. By exposing the contradictions and misinterpretations inherent in the case presented by gun rights supporters, this provocative volume demonstrates that an armed society is not a free society but one that actively hinders democratic participation.
Praise For Do Guns Make Us Free?: Democracy and the Armed Society…
"DeBrabander's arguments are novel, powerful, and compelling. He turns the arguments of gun advocates against them, showing that a society in which a high proportion of citizens are armed must become a society in which individual freedoms are eroded and democratic procedures are continuously threatened."—Jeff McMahan, author of The Ethics of Killing, and White's Chair of Moral Philosophy, University of Oxford
— Jeff McMahan

"Firmin DeBrabander does us all a substantial service by reminding us that the gun rights movement, though cloaked in self-righteousness, is a threat to democracy rather than its protector."—Stephen Teret, Founding Director, The Johns Hopkins Center for Gun Policy and Research
— Stephen Teret

"A provocative philosophical argument that an armed populace is a Machiavellian idea, not the guarantee of freedom the NRA insists it is—because only agreement on the rule of law ensures that."—Craig R. Whitney, author of Living with Guns: A Liberal's Case for the Second Amendment
— Craig R. Whitney

"This book makes a very simple point very well: guns make us less free. Therefore, the less guns, the more freedom. DeBrabander gives an eminently sane and rational argument against the armed society that the United States has become and allows us to imagine how we might escape it and recover the true life of democracy."—Simon Critchley, The New School for Social Research
— Simon Critchley

"It is a novel concept to examine the debate over gun control from a philosophical perspective….I believe the book is on to something."—John Donohue, Stanford University
— John Donohue

"Essential . . . sophisticated . . . eminently readable and persuasive . . . brilliant."—Jeremy D. Mayer, The American Interest
— Jeremy D. Mayer

"A timely examination of the politics of the pro-gun movement and our gun culture. . . . This sharply written book challenges prevailing arguments about the relationship between guns and freedom, answering its titular inquiry—Do Guns Make Us Free? — with a resounding 'no.'"—Harvard Law Review
— Harvard Law Review

"Highly interesting . . . exposing elements of American culture and detailing the relations between different historical and philosophical positions in a way that [is] lucid and engaging."—Adam Organi Henschke, Journal of Applied Philosophy
— Adam Organi Henschke

"DeBrabander convincingly argues that guns are restricting freedom rather than expanding it. . . . This is life in America. Where my loved ones, all of our loved ones . . . are all moments away from becoming another statistic. . . . DeBrabander's central thesis rings true: this is not real freedom."—Zac Davis, America: The National Catholic Review
— Zac Davis
Yale University Press, 9780300208931, 296pp.
Publication Date: May 19, 2015
About the Author
Firmin DeBrabander, an associate professor of philosophy at Maryland Institute College of Art, has written social and political commentary for numerous publications, including the Baltimore Sun, Common Dreams, Counterpunch, and the New York Times. He lives in Baltimore, MD.
or
Not Currently Available for Direct Purchase