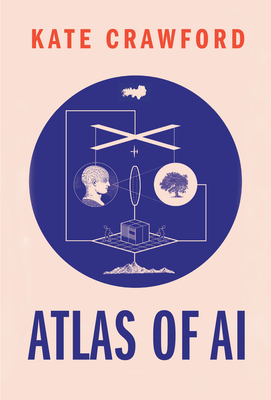 Atlas of AI
Power, Politics, and the Planetary Costs of Artificial Intelligence
Hardcover

* Individual store prices may vary.
Description
The hidden costs of artificial intelligence, from natural resources and labor to privacy, equality, and freedom

"This study argues that [artificial intelligence] is neither artificial nor particularly intelligent. . . . A fascinating history of the data on which machine-learning systems are trained."—New Yorker

"A valuable corrective to much of the hype surrounding AI and a useful instruction manual for the future."—John Thornhill, Financial Times

What happens when artificial intelligence saturates political life and depletes the planet? How is AI shaping our understanding of ourselves and our societies? Drawing on more than a decade of research, award‑winning scholar Kate Crawford reveals how AI is a technology of extraction: from the minerals drawn from the earth, to the labor pulled from low-wage information workers, to the data taken from every action and expression. This book reveals how this planetary network is fueling a shift toward undemocratic governance and increased inequity. Rather than taking a narrow focus on code and algorithms, Crawford offers us a material and political perspective on what it takes to make AI and how it centralizes power. This is an urgent account of what is at stake as technology companies use artificial intelligence to reshape the world.
Praise For Atlas of AI: Power, Politics, and the Planetary Costs of Artificial Intelligence…
"A valuable corrective to much of the hype surrounding AI and a useful instruction manual for the future...Crawford creates a strong framework to understand the dangers of this technological revolution as well as its environmental costs and suggests how we can best steer it towards more positive outcomes."—John Thornhill, Financial Times

"Mapping out the political, economic, environmental and societal contours of the technology, this senior researcher at Microsoft smartly reframes the technological debate: AI is a registry of power."—John Thornhill, Financial Times

"Eloquent, clear and profound—this volume is a classic for our times. It draws our attention away from the bright shiny objects of the new colonialism through elucidating the social, material and political dimensions of Artificial Intelligence."—Geoffrey C. Bowker, University of California, Irvine

"An insightful excursion into the processes, implications and ethics of data creation and manipulation in the 21st century. Ranging across terrains as diverse as mineral mines, server farms, distribution warehouses, and AI startups, Crawford shows vividly how our systems have grown to be 'dangerous when they fail and harmful when they work.'"—Joseph Turow, author of The Voice Catchers
 

"A must read. Moving from lithium mines to data extraction, from labor exploitation to government surveillance, Atlas of AI eloquently reveals how intelligence is 'made.' It displaces anemic calls for 'ethics' with probing investigations into the environmental degradation, capital accumulation, and labor conditions that AI makes possible."—Wendy Hui Kyong Chun, SFU's Canada 150 Chair in New Media

"Showing Artificial Intelligence as a technological achievement and cultural promise that spans politics, labor, land, and data, Crawford draws a unique and actionable map for seeing and challenging AI's power."—Mike Ananny, University of Southern California

"Kate Crawford looks at Artificial Intelligence with a humanist's eye and an artist's sense of what really matters. If you think AI is all about big data and machine learning, this marvelous book will remind you: it's about the natural world, and politics, and history, and sometimes, even beauty too."—Fred Turner, author of The Democratic Surround: Multimedia and American Liberalism from World War II to the Psychedelic Sixties
 


Yale University Press, 9780300209570, 336pp.
Publication Date: April 6, 2021
About the Author
Kate Crawford is a leading scholar of the social implications of AI. She is a Research Professor at USC Annenberg, a senior principal researcher at Microsoft Research, and the inaugural chair of AI and Justice at the École Normale Supérieure.