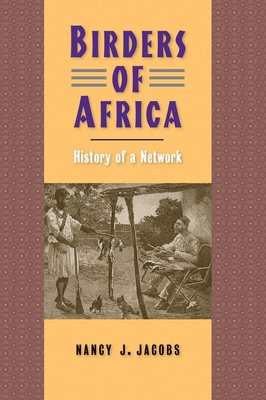 Birders of Africa (Hardcover)
History of a Network (Yale Agrarian Studies Series)
Yale University Press, 9780300209617, 352pp.
Publication Date: April 26, 2016
* Individual store prices may vary.
Description
In this unique and unprecedented study of birding in Africa, historian Nancy Jacobs reconstructs the collaborations between well-known ornithologists and the largely forgotten guides, hunters, and taxidermists who worked with them. Drawing on ethnography, scientific publications, private archives, and interviews, Jacobs asks: How did white ornithologists both depend on and operate distinctively from African birders? What investment did African birders have in collaborating with ornithologists? By distilling the interactions between European science and African vernacular knowledge, this stunningly illustrated work offers a fascinating examination of the colonial and postcolonial politics of expertise about nature.
About the Author
Nancy J. Jacobs is associate professor in the department of history at Brown University. She is the author of Environment, Power, and Injustice: A South African History. She lives in Providence, Rhode Island.
Praise For Birders of Africa: History of a Network (Yale Agrarian Studies Series)…
"Like the African honeyguide, Nancy Jacobs has led us to great riches. She beautifully describes the fascination of humans for birds, and thereby greatly illuminates (post-)colonial relations between humans."—Robert Ross, Leiden University
— Robert Ross
"The author provides a thoughtful, timely and, in many respects, exhaustive study of the accumulation and exchange of bird lore in Africa. This work fills a notable gap in the (English, at least) literature with respect to African perceptions of what has traditionally been understood from a specifically North American/European perspective."—Jill Payne, University of Cambridge
— Jill Payne
"In this adventurous narrative that explores how relationships between humans and birds determined the course of African ornithological knowledge, Jacobs challenges accepted stereotypes and charts a new direction in African history."—Jane Carruthers, University of South Africa
— Jane Carruthers
"A masterful achievement, advancing our understanding of human knowledge about birds in Africa and the ways gender, culture, and empire shaped science, recreation, and individual lives."—Thomas R. Dunlap, author of In the Field, Among the Feathered
— Thomas R. Dunlap
"Jacobs takes readers on a sweeping history of birding in Africa and the relationships among ornithologists, guides, and recreational bird watchers that ensued. Its intimate and touching portraits of the lives of African collectors and guides reveals much about the power relations and changing dynamics of scientific work in colonial and post-colonial Africa."—Gregg Mitman, author of Reel Nature: America's Romance with Wildlife on Film
— Gregg Mitman
"In the territory in which she is working, Jacobs has no equal. The book covers a topic—relations of race and class within the African continent's birdwatching community—that no one has addressed so synthetically and comprehensively until now."—Daniel Lewis, author of The Feathery Tribe
— Daniel Lewis
or
Not Currently Available for Direct Purchase