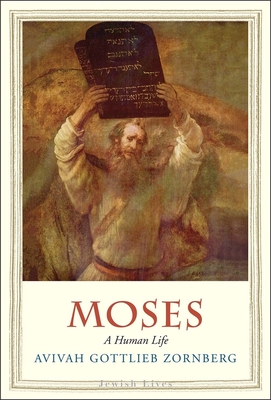 Moses
A Human Life (Jewish Lives)
Hardcover

* Individual store prices may vary.
Other Editions of This Title:
Paperback (3/17/2020)
Description
From the prizewinning Jewish Lives series, an unprecedented portrait of Moses's inner world and perplexing character, by a distinguished biblical scholar

"Bringing together copious, diverse and sometimes dissonant references (spanning Hasidic masters, George Eliot, Zizek and Beckett, among others), Zornberg gives a new tour of the life of Moses."—Clemence Boulouque, New York Times Book Review

"For those wishing to engage the legacy of Moses more deeply, this is a must-read."—Publishers Weekly, Starred Review

No figure looms larger in Jewish culture than Moses, and few have stories more enigmatic. Avivah Gottlieb Zornberg, acclaimed for her many books on Jewish thought, turns her attention to Moses in this remarkably rich, evocative book.
 
Drawing on a broad range of sources—literary as well as psychoanalytic, a wealth of classical Jewish texts alongside George Eliot, W. G. Sebald, and Werner Herzog—Zornberg offers a vivid and original portrait of the biblical Moses. Moses's vexing personality, his uncertain origins, and his turbulent relations with his own people are acutely explored by Zornberg, who sees this story, told and retold, as crucial not only to the biblical past but also to the future of Jewish history.

About Jewish Lives: 

Jewish Lives is a prizewinning series of interpretative biography designed to explore the many facets of Jewish identity. Individual volumes illuminate the imprint of Jewish figures upon literature, religion, philosophy, politics, cultural and economic life, and the arts and sciences. Subjects are paired with authors to elicit lively, deeply informed books that explore the range and depth of the Jewish experience from antiquity to the present.

In 2014, the Jewish Book Council named Jewish Lives the winner of its Jewish Book of the Year Award, the first series ever to receive this award.

More praise for Jewish Lives:

"Excellent." –New York Times

"Exemplary." –Wall Street Journal

"Distinguished." –New Yorker

"Superb." –The Guardian
Praise For Moses: A Human Life (Jewish Lives)…
"A celebrated biblical scholar, keen on weaving together traditional Jewish exegesis, psychoanalysis and postmodern criticism, Zornberg always displays minute attention to the psychological subtext of the Scriptures. . . . Bringing together copious, diverse and sometimes dissonant references (spanning Hasidic masters, George Eliot, Zizek and Beckett, among others), Zornberg gives a new tour of the life of Moses."—Clemence Boulouque,
New York Times Book Review
"In this exceptionally well-written book, which has the elegance of literature, Zornberg sidesteps the historical question. She treats Moses as a fictional character, not because she rejects his possible historicity but rather because she focuses on him as a personality. . . . The result is a thoughtful and highly literate read."—Robert A. Segal, Times Higher Education Supplement
"For those wishing to engage the legacy of Moses more deeply, this is a must-read."—
Publishers Weekly
(starred review)
"A rich, erudite study of
Moses. 
. . . Readers are introduced to nuanced yet eye-opening new views and interpretations of otherwise familiar texts. . . . A meaty, worthwhile biography by a great interpreter of Jewish texts."—
Kirkus Review 
(starred review)
"In
Moses: A Human Life
, Aviva Zornberg offers fresh insight into a familiar story, while reconciling us to our deepening awareness that so much remains unknown. . . . [Zornberg] is both reverential and iconoclastic in her approach to Moses' inner life."—Susan Reimer-Torn,
Jewish Week
"
Moses: A Human Life
challenges readers to see Moses in an original and thought-provoking way — not as a leader or a prophet, but as a man whose disabilities and conflicts make him uniquely qualified to speak for God and to achieve God's purpose. . . . Zornberg illustrates a touching picture of a man whose speech is limited but reaches his people — God's chosen people — and others as well."—Maron L. Waxman,
Jewish Book Council
"What Zornberg's method really does is meld an astute literary reading of the text with psychoanalytic insight. What results is immensely interesting and appealing, at times moving, even to a skeptic of the psychoanalytic worldview."—
Lilith
"Zornberg has not only succeeded, but achieved the seemingly impossible: contributing a fresh and original interpretation to a figure pondered over for more than 2,500 years."—Zach Rabiroff,
Open Letters Monthly
"Using various literary sources (such as Martin Buber, Sigmund Freud, George Elliot and Franz Kafka), biblical commentators (such as Rashi) and rabbinic and midrashic narratives, Zornberg shows us a multifaceted Moses: He is a man whose sense of identity is fraught with ambiguity and insecurity, and he is also a man worthy of leading a nation to greatness."—Linda Tucker,
Moment
"[
Moses
] is a study that brings this great biblical figure to life in a way that promises to make him more deeply meaningful for readers today."—John R. Barker,
Bible Today
"Only Avivah Zornberg could tell the story of Moses in such a way as to situate him on the very cusp of the sacred and the human while showing how completely he participates in both. Only Zornberg has the prodigious scholarship to draw out from her sources the uniquely anguished and creative energy of Moses' life. In doing so she makes a plea for a Jewish ethics grounded in the outsider, the one who stutters and falls, while at the same time returning Moses as a fully modern prophet to the modern world."—Jacqueline Rose, author of 
The Last Resistance
and
Women in Dark Times
"The author has perfected a distinctive approach to the biblical text that is both traditional and post-modern, playful and profound, imaginative but also truthful."—Steven Weitzman, author of 
Solomon: The Lure of Wisdom
Yale University Press, 9780300209624, 240pp.
Publication Date: November 22, 2016
About the Author
Avivah Gottlieb Zornberg lectures on the Hebrew Bible and rabbinic thought at academic, psychoanalytic, and Jewish educational institutions around the world. In 1995 she received the National Jewish Book Award for Genesis: The Beginning of Desire.
or
Not Currently Available for Direct Purchase