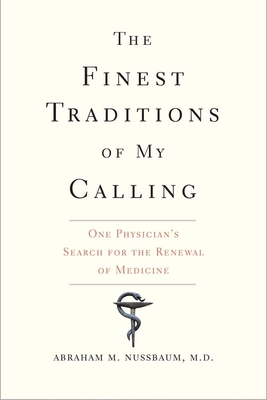 The Finest Traditions of My Calling
One Physician's Search for the Renewal of Medicine
Hardcover

* Individual store prices may vary.
Other Editions of This Title:
Paperback (3/28/2017)
Description
A deeply concerned physician reflects on today's doctor-patient relationships and offers a compelling vision of a better way to practice medicine

Patients and doctors alike are keenly aware that the medical world is in the midst of great change. We live in an era of continuous healthcare reforms, many of which focus on high volume, efficiency, and cost-effectiveness. This compelling, thoughtful book is the response of a practicing psychiatrist who explains how population-based reforms have diminished the relationship between doctors and patients, to the detriment of both. As an antidote to failed reforms and an alternative to stubbornly held traditions, Dr. Abraham M. Nussbaum suggests ways that doctors and patients can learn what it means to be ill and to seek medical assistance.
 
Using a variety of riveting stories from his own and others' experiences, the author develops a series of metaphors to explore a doctor's role in different healthcare reform scenarios: scientist, technician, author, gardener, teacher, servant, and witness. Each role influences what a physician sees when examining a person as a patient. Dr. Nussbaum cautions that true healthcare reform can happen only when those who practice medicine can see, and be seen by, their patients as fellow creatures. His memoir makes a hopeful appeal for change, and his insights reveal the direction that change must take.
Praise For The Finest Traditions of My Calling: One Physician's Search for the Renewal of Medicine…
"A less ambitious writer would have contented himself with the details. But Dr. Nussbaum steers his narrative directly to the hard questions about 21st-century medicine, a profession just about as variously troubled as his patients. . . . He writes beautifully, in a lucid prose as notable for its process as its conclusions: The reader can actually watch him think. . . . Many medical memoirs are one-shot deals, offered to the public purely to unburden the author. From these books, readers and writer all move on with some relief. In Dr. Nussbaum's case, we will eagerly await the next volume in the set."—Abigail Zuger, M.D., New York Times

"His insightful polemic reveals that current reforms in medicine are missing an essential element."—Publishers Weekly

"A revealing and stirring directive aiming to heal medicine from the inside out."—Kirkus Reviews

"Readers of various vocations are likely to find resonances in the book's attempt to balance professionalism with human relationship."—Christian Century

"Intelligent and beautifully written."—Suzanne Koven, Los Angeles Review of Books

"In a time when hospitals threaten to become factories and doctors seem no more than factory farmers, Nussbaum helps us see that there is an alternative. That alternative turns out to be exemplified in the stories he wonderfully tells of what he has learned from the sick. Hopefully his book will be widely read because it has important practical as well as theoretical implications."—Stanley Hauerwas, author of The Work of Theology

"A clear-eyed and thoughtful (and interesting!) analysis of where medicine is right now, how it got here, why an alternative 'vision' is preferable, and some gestures toward what that alternative might be and might promise. The stories are presented respectfully . . . and as real stories, not just case study examples."—Margaret Mohrmann, M.D., Ph.D., University of Virginia

"Occasionally someone speaks up in the midst of our clamoring arguments about social problems and manages to do the simple and extraordinary thing that makes all the difference: they ask the right questions. Reading The Finest Traditions of My Calling, I couldn't help but see Nussbaum as a Martin Luther of health care and this book is his 95 theses. May true reform ensue."—Rev. Nadia Bolz-Weber, author of Accidental Saints: Finding God in All the Wrong People

"An eye-opening journey into the rapidly industrializing world of modern healthcare. Nussbaum steadfastly reminds us that true 'quality' needs to include the humanity of the patient and the caregiver. A compelling read."—Danielle Ofri, M.D., Ph.D., author of What Doctors Feel: How Emotions Affect the Practice of Medicine

"The author has produced a work that addresses the 'fall from grace' of the medical profession. It is rich with nuanced details and stories of physician and patient lives. He moves through his territory with delightful stride."—Thomas Duffy, M.D., Yale University School of Medicine


Yale University Press, 9780300211405, 320pp.
Publication Date: March 22, 2016
About the Author
Abraham M. Nussbaum, M.D., is the Chief Education Officer at Denver Health and is an associate professor of psychiatry at the University of Colorado School of Medicine. He lives in Denver, CO.
or
Not Currently Available for Direct Purchase