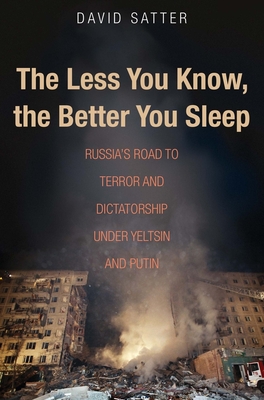 The Less You Know, the Better You Sleep
Russia's Road to Terror and Dictatorship under Yeltsin and Putin
Hardcover

* Individual store prices may vary.
Other Editions of This Title:
Paperback (8/22/2017)
MP3 CD (10/25/2016)
Description
Once you accept that the impossible is really possible, what happens in Russia makes perfect sense

In December 2013, David Satter became the first American journalist to be expelled from Russia since the Cold War. The Moscow Times said it was not surprising he was expelled, "it was surprising it took so long." Satter is known in Russia for having written that the apartment bombings in 1999, which were blamed on Chechens and brought Putin to power, were actually carried out by the Russian FSB security police.
 
In this book, Satter tells the story of the apartment bombings and how Boris Yeltsin presided over the criminalization of Russia, why Vladimir Putin was chosen as his successor, and how Putin has suppressed all opposition while retaining the appearance of a pluralist state. As the threat represented by Russia becomes increasingly clear, Satter's description of where Russia is and how it got there will be of vital interest to anyone concerned about the dangers facing the world today.
Praise For The Less You Know, the Better You Sleep: Russia's Road to Terror and Dictatorship under Yeltsin and Putin…
"The circumstantial evidence is compelling. It is set out in David Satter's book with concision, authority and an undertow of quiet rage."—Giles Whittell, Times

"Satter . . . persuasively supplies evidence for his claim that a series of residential bombings in 1999 were part of an elaborate conspiracy orchestrated by Vladimir Putin, who used them as a smoke screen to invade Chechnya and catapult himself to the presidency."—Publisher's Weekly

"A few pages into David Satter's truly terrifying book, one realizes that his title is smack-on accurate: modern Russia is a frightening member of the world community to an extent of which most persons are blissfully unaware."—Joseph C. Goulden, Washington Times

"Thoroughly documented and written with an elegance that just manages to keep anger in check, the indictment is unsparing. Fellow-feeling for Russians and their national character runs through Satter's book."—David Pryce-Jones, National Review

"Satter's tense reporting is designed to trigger disbelief . . . The details are chilling – and impressive."—Ron Slate, On The Seawall

"Few Western correspondents have spent as much time in Russia as Satter has, and even fewer have chosen to focus relentlessly on the flagrant crimes and outrages committed first under the Yeltsin presidency and then During Putin's seemingly interminable period of authoritarian rule . . . I am able to testify that Satter has gotten everything right."—John B. Dunlop, Journal of Soviet and Post-Soviet Studies

"A darkly impressive account of post-Soviet Russia, skillfully moving between detective-style close-ups of key events and sweeping analysis."—Peter Pomeranzev, author of Nothing is True and Everything is Possible

"David Satter blends masterful journalism and rigorous scholarship in a disturbingly illuminating book on the origins, nature and future of the Putin autocracy. Required reading for all those who refuse to indulge in wishful thinking about a rogue state claiming to be a respectable superpower."—Vladimir Tismaneanu, author of The Devil in History: Communism, Fascims and Some Lessons of the Twentieth Century

"This very timely new book by David Satter, one of our finest analysts of contemporary Russia, provides crucial insights into Vladimir Putin. The negligible value he and his cohorts place on human life is chillingly illustrated. Here you will find a gripping account of the deliberate lethal gassing of hundreds of innocent hostages held captive by terrorists, demonstrating that seizing and holding power by any means is Putin's stock in trade."—Richard V. Allen, senior fellow Hoover Institution and former national security adviser to Ronald Reagan

"Vladimir Putin's dictatorship was enabled by those who ignored the lessons of history and the warnings of people like David Satter, who was right early and often during the fall of Russian democracy and the rise of Putin's police state. Few can speak with so much authority and conviction on the triumphs and tragedies of modern Russia."—Garry Kasparov, Chairman of the Human Rights Foundation, former world chess champion

"David Satter has the courage to ask what role the Russian authorities themselves had in the worst terrorist outrages there and - unlike others who did the same - has survived to tell the tale. If he is right that grand provocation had a key political role under both Yeltsin and Putin presidencies - and the evidence is persuasive - then Russia is a country from Dostoyevski's worst dreams. The Less You Know, the Better you Sleep is an uncompromising, cogent, disturbing account of a country whose authorities' nihilism may yet lead it to disaster."—Radek Sikorski, former Polish foreign minister


Yale University Press, 9780300211429, 240pp.
Publication Date: May 24, 2016
About the Author
David Satter, who has written about Russia for almost four decades, is a senior fellow at the Hudson Institute and a fellow of the Johns Hopkins School of Advanced International Studies. He divides his time between Washington, D.C., and London.
or
Not Currently Available for Direct Purchase