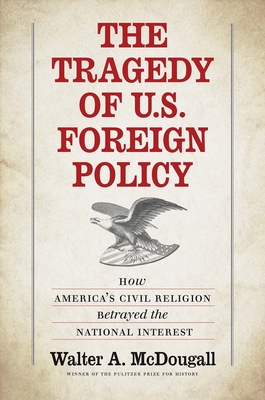 The Tragedy of U.S. Foreign Policy (Hardcover)
How America's Civil Religion Betrayed the National Interest
Yale University Press, 9780300211450, 424pp.
Publication Date: November 22, 2016
* Individual store prices may vary.
Description
A fierce critique of civil religion as the taproot of America's bid for global hegemony

Pulitzer Prize–winning historian Walter A. McDougall argues powerfully that a pervasive but radically changing faith that "God is on our side" has inspired U.S. foreign policy ever since 1776. The first comprehensive study of the role played by civil religion in U.S. foreign relations over the entire course of the country's history, McDougall's book explores the deeply infused religious rhetoric that has sustained and driven an otherwise secular republic through peace, war, and global interventions for more than two hundred years. From the Founding Fathers and the crusade for independence to the Monroe Doctrine, through World Wars I and II and the decades-long Cold War campaign against "godless Communism," this coruscating polemic reveals the unacknowledged but freely exercised dogmas of civil religion that bind together a "God blessed" America, sustaining the nation in its pursuit of an ever elusive global destiny.
About the Author
Walter A. McDougall is professor of history and the Alloy-Ansin Professor of International Relations at the University of Pennsylvania. His numerous books include the 1986 Pulitzer Prize-winner The Heavens and the Earth: A Political History of the Space Age.
Praise For The Tragedy of U.S. Foreign Policy: How America's Civil Religion Betrayed the National Interest…
"One of this disturbing book's many strengths is its reminder of a United States before it entered the world's stage. . . . Whether American presidents could conduct foreign relations better without the hype of civil religion Mr. McDougall does not say. But he suggests that the national interest might be a better guide to America's conduct in the world."—D.G. Hart, Wall Street Journal
"Walter A. McDougall, . . . who has taken on some of the broadest themes in American society and won a Pulitzer for his brilliant history of the American space program, warns in The Tragedy of U.S. Foreign Policy that once in office American presidents are often 'susceptible to a utopian temptation.' They adopt a language that he describes as 'American civil religion,' wrapping adventurism in a gauzy, semireligious haze."—David E. Sanger, New York Times Book Review
"A book remarkable for its depth, breadth, and intellectual daring."—Kirkus Reviews, starred review
"McDougall's well-written, compelling, and provocative book definitely fits in the tragedy genre–one that may help equip future policy makers against lies and against the temptations of the musical."—Christopher Hemmer, Air War College, H-Net Reviews
"
"As Americans come to recognize that our foreign policy has led us dangerously astray, many ask how and why this happened. McDougall offers us an insightful and original answer. By recounting and seeking to explain our misadventures, he shows us not only what went wrong, but how America can approach the world more wisely in the future."—Stephen Kinzer, author of The Brothers: John Foster Dulles, Allen Dulles, and Their Secret World War
"The most important book on U.S. foreign policy to appear in many years, Walter McDougall's sobering essay is both social criticism and a warning. It is about how great powers rise and fall, grow corrupted and exhausted. It is a brilliant synopsis of America's still-recent encounter with the world, a lively, riveting historical narrative. The Tragedy of US Foreign Policy confirms McDougall's stature as a premier story-teller and perhaps America's greatest living historian."—David Eisenhower
"A lot has been written about U.S. foreign policy since 9/11, but nothing compares to Walter McDougall's wonderfully original new book. Deftly blending diplomatic, religious, intellectual, and political history, and written with stylish wit and penetrating insight, The Tragedy of U.S. Foreign Policy reveals the historical origins of America's current global predicament. Required reading for anyone interested in American politics, foreign policy, and the future of world order."—Andrew Preston, Cambridge University
"The Tragedy of U. S. Foreign Policy is utterly original, brutally honest, and vividly written. Here is a rare example of an American patriot and master historian willing to speak hard truths about his country."—Andrew Bacevich, author of America's War for the Greater Middle East: A Military History