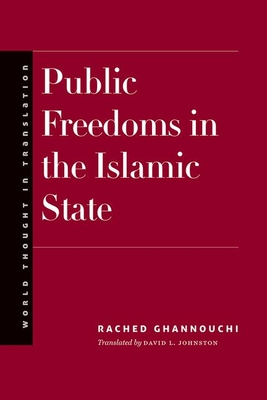 Public Freedoms in the Islamic State (World Thought in Translation)
Hardcover

* Individual store prices may vary.
Description
Available now for the first time in English, the most important work of one of the great moderate political leaders of the Muslim world

Rached Ghannouchi has long been known as a reformist or moderate Islamist thinker. In Public Freedoms in the Islamic State, his most influential book, he argues that the Universal Declaration of Human Rights—in its broad outlines—should be widely accepted by Muslims under the correct interpretation of Islamic law and theology. Under his theory of the purposes of Shari'a, justice and human welfare are not exclusive to Islamic governance, and the objectives of Islamic law can be advanced in multiple ways. Appearing in English translation here for the first time, this book is a major statement by one of the most important political theorists in the modern Middle East.
Praise For Public Freedoms in the Islamic State (World Thought in Translation)…
"Rached Ghannouchi is one of the most influential, most interesting, and most promising thinkers and leaders of political Islam today. Finally, the magnum opus of his political thought on public and personal freedom is available in English. It is an important document for how human rights and freedoms can be squared with the claims of Islamic political movements."—Frank Griffel, Yale University

Rached Ghannouchi presents the case for Islamic democracy in this in-depth study of public freedoms in an Islamic state. David Johnston's clear translation should be read by anyone interested in the emerging movements of Muslim democrats.–John O. Voll, co-author of Islam and Democracy after the Arab Spring

"Rached Ghannouchi is one of the world's most influential Islamist thinkers, and his Public Freedoms in the Islamic State is essential reading for anyone interested in the relationship between Islam and democracy."—Anne Wolf, author of Political Islam in Tunisia: the History of Ennahda
 


Yale University Press, 9780300211528, 576pp.
Publication Date: July 12, 2022
About the Author
Rached Ghannouchi is cofounder, intellectual leader, and current head of the Ennahda Party, the largest political party in Tunisia. In 2016, under Ghannouchi's direction, Ennahda separated itself from Islamism and divided its political activities from its religious ones. David L. Johnston is visiting scholar in the Near Eastern Languages and Civilizations Department at the University of Pennsylvania, adjunct instructor at Saint Joseph's University, and affiliated assistant professor of Islamic studies at Fuller Theological Seminary.