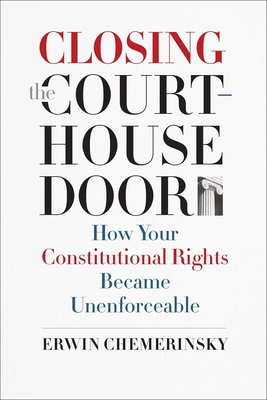 Closing the Courthouse Door
How Your Constitutional Rights Became Unenforceable
Hardcover

* Individual store prices may vary.
Other Editions of This Title:
MP3 CD (1/25/2017)
Compact Disc (1/25/2017)
Description
A leading legal scholar explores how the constitutional right to seek justice has been restricted by the Supreme Court

The Supreme Court's decisions on constitutional rights are well known and much talked about. But individuals who want to defend those rights need something else as well: access to courts that can rule on their complaints. And on matters of access, the Court's record over the past generation has been almost uniformly hostile to the enforcement of individual citizens' constitutional rights. The Court has restricted who has standing to sue, expanded the immunity of governments and government workers, limited the kinds of cases the federal courts can hear, and restricted the right of habeas corpus. Closing the Courthouse Door, by the distinguished legal scholar Erwin Chemerinsky, is the first book to show the effect of these decisions: taken together, they add up to a growing limitation on citizens' ability to defend their rights under the Constitution. Using many stories of people whose rights have been trampled yet who had no legal recourse, Chemerinsky argues that enforcing the Constitution should be the federal courts' primary purpose, and they should not be barred from considering any constitutional question.
Praise For Closing the Courthouse Door: How Your Constitutional Rights Became Unenforceable…
"Documents the hostility of the Rehnquist and Roberts courts to the enforcement of citizens' constitutional rights. . . . Clear, cogent, passionate and persuasive. . . . Awash in examples of disturbing decisions of the Supreme Court."—Glenn C. Altschuler, Huffington Post
"Powerful and impassioned . . . anything but dry reading. Its cogent analysis is enhanced by practical steps for enabling federal courts to again truly enforce the U.S. Constitution."—Publishers Weekly
"Chemerinsky shows how judicial deference undercuts democracy in significant ways. . . . This book is the strongest argument I have seen in favor of judicial power."—Kent Greenfield, author of The Myth of Choice
"Few principles are more basic to constitutional law than the notion that if justice is to have meaning, it must be equally available to all. Yet as Erwin Chemerinsky shows in this compelling and searing indictment, the Supreme Court has erected barrier after barrier to ordinary citizens who seek nothing more than their day in court. This is a must-read for all who wonder why the promise of equal justice under law has been so severely eroded."—David Cole, Georgetown Law, author of Engines of Liberty: The Power of Citizen Activists to Make Constitutional Law   
"In this book, Erwin Chemerinsky has eloquently and persuasively articulated his insightful vision of the unique role of the federal courts in our political system. All Americans—especially those sitting on the federal bench—should take heed."—Martin  Redish, Louis and Harriet Ancel Professor of Law and Public Policy, Northwestern Pritzker School of Law
"A masterful exposition of how the federal courts are using abstruse and unfounded procedural doctrines, from abstention to standing, to foul away our rights. Not for lawyers only!"—Susan Herman, President, American Civil Liberties Union
Yale University Press, 9780300211580, 280pp.
Publication Date: January 10, 2017
About the Author
Erwin Chemerinsky is the founding Dean and Distinguished Professor of Law and Raymond Pryke Professor of First Amendment Law at the University of California, Irvine School of Law, with a joint appointment in Political Science.
or
Not Currently Available for Direct Purchase