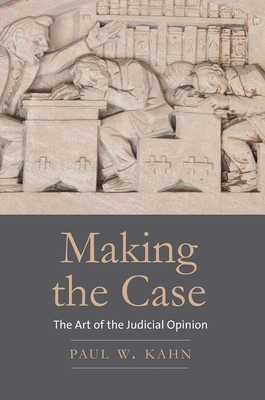 Making the Case (Hardcover)
The Art of the Judicial Opinion
Yale University Press, 9780300212082, 256pp.
Publication Date: April 26, 2016
Other Editions of This Title:
Paperback (11/13/2018)
* Individual store prices may vary.
Description
Writing in the tradition of Karl Llewellyn's classic The Bramble Bush, Paul Kahn speaks in this book simultaneously to students and scholars. Drawing on thirty years of teaching experience, Kahn introduces students to the deep, narrative structure of the judicial opinion. Learning to read the opinion, the student learns the nature of legal argument. Thus Kahn's exposition of the opinion simultaneously offers a theory of legal meaning that will be of great interest to scholars of law, humanities, and the social sciences. At the center of Kahn's approach are ideas of narrative, persuasion, and self-government. His sweeping account of interpretation in law offers innovative views of the nature of authorship, the development and decline of doctrine, and the construction of facts.
About the Author
Paul W. Kahn is Robert W. Winner Professor of Law and the Humanities and director of Orville H. Schell, Jr. Center for International Human Rights at Yale Law School. His previous publications include The Reign of Law, Legitimacy and History, and Law and Love.
Praise For Making the Case: The Art of the Judicial Opinion…
"Every law student will want this book. Paul Kahn takes us beyond the typical holdings and precedents in judicial opinions to the all-important questions of how legal language convinces us of the truth it wants us to hear."—Robert Ferguson, Columbia Law School
— Robert Ferguson
"Paying close attention to the legal opinion—how it is structured, the texture of its argument—leads us to the heart of what law is and does. Paul Kahn's book makes a wholly persuasive case for why we need to read the law."—Peter Brooks, Princeton University
— Peter Brooks
"Paul Kahn is one of the greatest legal humanists the academy has ever produced. His lucid and profound book shows us that the legal case is a rhetorical genre no less deserving of systematic study than the novel, play, or sonnet. I knew long before I finished the book that I would never read--or teach--the same way again." --Kenji Yoshino, NYU
— Kenji Yoshino
"Every law student needs this book, but so does anyone else who seeks to understand—beyond the familiar soundbites—how judges think and how law is made."—Linda Greenhouse, Yale Law School
— Linda Greenhouse
or
Not Currently Available for Direct Purchase