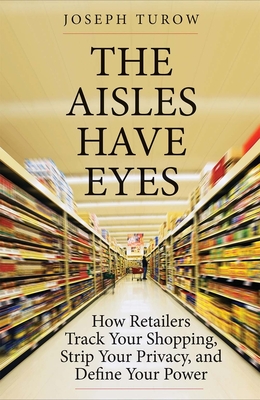 The Aisles Have Eyes
How Retailers Track Your Shopping, Strip Your Privacy, and Define Your Power
Hardcover

* Individual store prices may vary.
Other Editions of This Title:
MP3 CD (1/17/2017)
MP3 CD (1/17/2017)
Compact Disc (1/17/2017)
Paperback (2/6/2018)
Compact Disc (1/17/2017)
Description
A revealing and surprising look at the ways that aggressive consumer advertising and tracking, already pervasive online, are coming to a retail store near you

By one expert's prediction, within twenty years half of Americans will have body implants that tell retailers how they feel about specific products as they browse their local stores. The notion may be outlandish, but it reflects executives' drive to understand shoppers in the aisles with the same obsessive detail that they track us online. In fact, a hidden surveillance revolution is already taking place inside brick-and-mortar stores, where Americans still do most of their buying. Drawing on his interviews with retail executives, analysis of trade publications, and experiences at insider industry meetings, advertising and digital studies expert Joseph Turow pulls back the curtain on these trends, showing how a new hyper-competitive generation of merchants—including Macy's, Target, and Walmart—is already using data mining, in-store tracking, and predictive analytics to change the way we buy, undermine our privacy, and define our reputations.  Eye-opening and timely, Turow's book is essential reading to understand the future of shopping.
Praise For The Aisles Have Eyes: How Retailers Track Your Shopping, Strip Your Privacy, and Define Your Power…
"Turow shows shopping today to be an exercise in unwitting self-revelation—and not only online."—Wall Street Journal
"Thoroughly researched and clearly presented with detailed evidence and fascinating peeks inside the retail industry. Much of this information is startling and even chilling, particularly when Turow shows how retail data-tracking can enable discrimination and societal stratification."—Publishers Weekly
"Revealing. . . . Most retailers . . . hope future generations will simply accept surveillance and tracking as part of the American shopping experience. Valuable reading for shoppers and retailers alike."—Kirkus Reviews
"A trenchant, timely, and troubling account of the data-mining, in-store tracking, and predictive analytics . . . retailers are using to gather information about shoppers."—Philadelphia Inquirer
"[The Aisles Have Eyes] provides a detailed and well documented description of marketing practices as they have been developed [over the centuries.] . . . This general overview is indispensable for anyone who wishes to address this topic."—Alessandro Mantelero, European Data Protection Law Review
"The store is a battleground for new contests over privacy and individual autonomy. This fact-filled book performs a genuine public service and should put every shopper on high alert."—Shoshana Zuboff, Harvard Business School
"A revelatory look at the new forms of surveillance in the seemingly mundane world of brick-and-mortar stores. We are indebted to Turow for teasing out the privacy implications of our everyday shopping experiences."—Ira Rubinstein, New York University School of Law
"Turow deftly triangulates an imminent retail future, for better or worse. The aisles have eyes indeed. But given consumer-empowering mobile technology, so will we."—Mike Boland, Chief Analyst, BIA/Kelsey
"A must-read to understand the opaque, pervasive world of data-driven marketing. Turow masterfully uncovers and explains the staggering efforts of retailers to stratify consumers socially and economically."—Joel R. Reidenberg, co-author of Data Privacy Law
"Turow is the best kind of trail guide for those who care about the widespread commercial, cultural, and political implications of these developments. Take heed."—Lee Rainie, Director, Pew Research Center's Internet & American Life Project, on The Daily You

Yale University Press, 9780300212198, 344pp.
Publication Date: January 17, 2017
About the Author
Joseph Turow is Robert Lewis Shayon Professor of Communication and associate dean for graduate studies at the Annenberg School for Communication at the University of Pennsylvania and the author of several books.
or
Not Currently Available for Direct Purchase