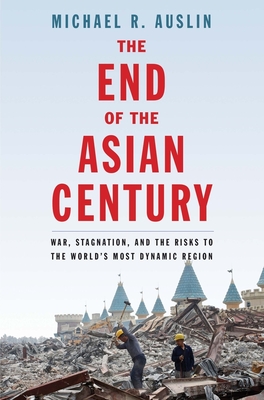 The End of the Asian Century
War, Stagnation, and the Risks to the World's Most Dynamic Region
Hardcover

* Individual store prices may vary.
Other Editions of This Title:
Paperback (8/21/2018)
MP3 CD (1/10/2017)
Compact Disc (1/10/2017)
Compact Disc (1/10/2017)
Description
An urgently needed "risk map" of the many dangers that could derail Asia's growth and stability

Since Marco Polo, the West has waited for the "Asian Century." Today, the world believes that Century has arrived. Yet from China's slumping economy to war clouds over the South China Sea and from environmental devastation to demographic crisis, Asia's future is increasingly uncertain. Historian and geopolitical expert Michael Auslin argues that far from being a cohesive powerhouse, Asia is a fractured region threatened by stagnation and instability. Here, he provides a comprehensive account of the economic, military, political, and demographic risks that bedevil half of our world, arguing that Asia, working with the United States, has a unique opportunity to avert catastrophe – but only if it acts boldly. Bringing together firsthand observations and decades of research, Auslin's provocative reassessment of Asia's future will be a must‑read for industry and investors, as well as politicians and scholars, for years to come.
Praise For The End of the Asian Century: War, Stagnation, and the Risks to the World's Most Dynamic Region…
"No sooner had we got used to thinking of ourselves as living in the 'Asian century' than it might be all over. . . . The book is a crash course on the risks in Asia."—Lucy Hornby,
Financial Times
"[Auslin] argues persuasively that most predictions for Asia are unrealistically rosy."—Tony Abbott, 
Wall Street Journal
"Informative, thoughtful, and wide-ranging . . . well-researched, insightful . . . a wake-up call."—
Publishers Weekly
"Informative, thoughtful, and wide-ranging . . . well-researched, insightful . . . a wake-up call."—
Publishers Weekly
"Auslin has done us a great service, and his book deserves to be read."—Peter Mattis,
War On The Rocks
"A  brilliant book . . . easy to read and engaging."—Michael Rubin,
Commentary
"A valuable new book."—Aaron MacLean,
Washington Free Beacon
"A plausible, meticulously documented analysis of the deep fissures that divide the individual nations and cultures of the Asian Pacific and portend trouble ahead — economically, politically and diplomatically."—Aram Bakshian Jr.,
Washington Times
"A useful reminder. . . . Most Asian leaders have recognized that unless they tread carefully, the continent will not succeed. Managing the risks Auslin describes consumes much of the day-to-day politics and diplomacy of the region."—
Foreign Affairs
"A point-by-point debunking of the 'Asiaphoria' that gripped so many imaginations a decade ago . . . Auslin argues that the conditions are building for major-power conflict in Asia and the Pacific."—David Frum,
Atlantic
"And yet in just 222 pages his book manages to serve not only as an excellent introduction to the region but as an incisive guide to understanding the contemporary risks roiling the most consequential region of the world."—Charles Edel,
Naval War College Review
Named to the Politico 50 Reading List
"For scholars and policymakers who have sufficient background knowledge about the Asia-Pacific, this book is a fantastic work that will help them have a deeper and more sophisticated understanding of the region, with all the real and potential problems awaiting."—Zhiqun Zhu,
Education About Asia
"Michael Auslin combines an historian's perspective with the art of diagnosis to map Asia's possible futures. The surprising result is anticipatory, cautionary, and contrarian. Written with verve and a readable style, Auslin urges us to weigh the wide-ranging implications of these risks for America and the rest of the world."—Robert B. Zoellick, former President of the World Bank, US Trade  Representative, and U.S. Deputy Secretary of State
"
The End of the Asian Century
is the essential user's guide to the gathering risks in the dynamic Indo-Pacific crescent. Not since Robert D. Kaplan's
The Coming Anarchy
and Samuel Huntington's
Clash of Civilizations
has a study so originally and presciently captured the risks to the emerging international order."—James Kraska, Howard S. Levie Professor of International Law, U.S. Naval War College
"Michael Auslin has built a reputation as an astute and forward-looking observer. In his new book, Auslin paints a vivid picture of a region waiting to see the full extent of Beijing's ambitions while wondering how the United States will ultimately respond. Those wishing to understand the scale of the challenge posed by China's destabilizing behavior would be well-served by this timely book."—Congressman J. Randy Forbes (R-Va), Chairman of the House Armed Services Subcommittee on Seapower & Projection Forces and Co-Chairman of the Congressional China Caucus
"For years, many Americans have seen a rising Asia as a region of opportunity. But Asia scholar Michael Auslin has come to see it as a region of risks—military, economic, demographic. In
The End of the Asian Century
, he provides a 'risk map' of a region of great promise and great problems."—Michael Barone, resident fellow at the American Enterprise Institute and
Washington Examiner
senior political analyst
"Auslin argues powerfully for a dose of reality when assessing the current situation in Asia and its future problems and prospects."—George P. Shultz,
former U.S. Secretary of State and Secretary of the Treasury, and Distinguished Fellow, Hoover Institution, Stanford University
Yale University Press, 9780300212228, 304pp.
Publication Date: January 10, 2017
About the Author
Michael R. Auslin is the Williams-Griffis Fellow in Contemporary Asia at the Hoover Institution, Stanford University.
or
Not Currently Available for Direct Purchase