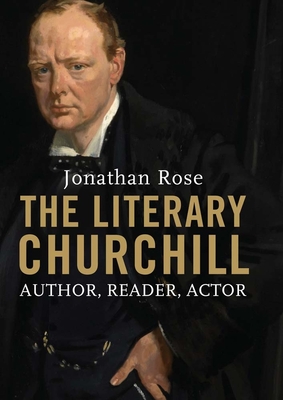 The Literary Churchill
Author, Reader, Actor
Paperback

* Individual store prices may vary.
Other Editions of This Title:
Hardcover (5/28/2014)
Description
A transformative portrait of Churchill, whose love of history, theater, and reading was inextricably linked to his life as a statesman

This strikingly original book introduces a Winston Churchill we have not known before. Award-winning author Jonathan Rose explores in tandem Churchill's careers as statesman and author, revealing the profound influence of literature and theater on Churchill's personal, carefully composed grand story and on the decisions he made throughout his political life.
 
Rose provides in this expansive literary biography an analysis of Churchill's writings and their reception (he won the Nobel Prize for Literature in 1953 and was a best-selling author), and a chronicle of his dealings with publishers, editors, literary agents, and censors. The book also identifies an array of authors who shaped Churchill's own writings and politics: George Bernard Shaw, H. G. Wells, Margaret Mitchell, George Orwell, Oscar Wilde, and many more. Rose investigates the effect of Churchill's passion for theater on his approach to reportage, memoirs, and historical works. Perhaps most remarkably, Rose reveals the unmistakable influence of Churchill's reading on every important episode of his public life, including his championship of social reform, plans for the Gallipoli invasion, command during the Blitz, crusade for Zionism, and efforts to prevent a nuclear arms race. In a fascinating conclusion, Rose traces the significance of Churchill's writings to later generations of politicians, among them President John F. Kennedy as he struggled to extricate the U.S. from the Cuban Missile Crisis.
Praise For The Literary Churchill: Author, Reader, Actor…
"An interesting and at times surprising account of Churchill's tastes as a reader . . . [Rose] is a very good stylist. He is also formidably knowledgeable, and many of his nuggets will be new even to Churchill junkies."—Ben Downing, Wall Street Journal

"Immensely enjoyable . . . marvelous . . . This gracefully written book is an original and textured study of Churchill's imagination." —Michael F. Bishop, Washington Post

"A most wonderful book for Churchill admirers . . . fascinating . . . the book sparkles and is the best I have ever read on the man."—Tom Perkins, Wall Street Journal, "Books of the Year"

"Rose's swift, incisive narrative portrays Churchill as a brilliant, if flawed, manipulator of political theater."—Kirkus Reviews (starred review)

"A masterpiece . . . a more mentally nimble version of [Churchill] the man than any previous portrait . . . superb, revelatory . . . a bravura new take on the man and his life . . . nobody should miss it." —Steve Donoghue, Open Letters

"The biographical inattention to [Churchill's] voluminous body of written work . . . has been a strange oversight. Now that wrong has been righted, in a single stroke and ably so, by Jonathan Rose's The Literary Churchill."—Anthony Paletta, Daily Beast

"Well-researched and clearly informed by great admiration and attunement to its subject . . . [and] crammed with interesting facts." —Martin Rubin, Washington Times

"Rose doesn't miss a trick in this fascinating look into the literary mind of one of the men who made world history."—Dave Wood, syndicated columnist ("Book Report")

"Rose has written a big, readable, informative, and convincing book."—William J. Scheick, English Literature in Transition

"Very well written, filled with erudition, documentation, and insights."—Manfred Weidhorn, Finest Hour: The Journal of Winston Churchill

"Rose has written a superb book and unlike many books about Churchill, one that really needed to be written."—Clifford Cunningham, Sun News Miami

"Vivid, elegantly written, and thorough . . . an original and thoughtful study."—Bradley P. Tolppanen, Winston Churchill Blog

"The Literary Churchill is . . . ingenious, certainly invaluable. . ."—Alan Allport, The Journal of Modern History

"[A] valuable book"—Geoffrey Wheatcroft, New York Review of Books

The 2016 New Jersey Committee for the Humanities Book Award in the scholarly humanities non-fiction cateogry.

'Lucid, insightful, and authoritative, The Literary Churchill reveals in rich detail how a great political life was shaped by a love of books, a theatrical flair and a brilliant talent for turning a phrase. Unlike many politicians then or now, Churchill believed that literature mattered, and as this book demonstrates convincingly, his deep commitment to the world of the imagination influenced his career at every important turn.' - Michael Shelden, author of Young Titan: The Making of Winston Churchill



'One of the most remarkable books ever written about Winston Churchill.'—Piers Brendon, Literary Review
— Piers Brendon
Yale University Press, 9780300212341, 528pp.
Publication Date: June 9, 2015
About the Author
Jonathan Rose is William R. Kenan Jr. Professor of History, Drew University. He lives in Morristown, NJ.
or
Not Currently Available for Direct Purchase