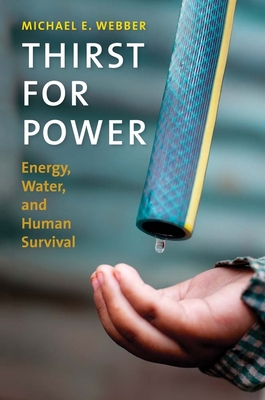 Thirst for Power
Energy, Water, and Human Survival
Hardcover

* Individual store prices may vary.
Other Editions of This Title:
Paperback (7/24/2018)
Description
How changing the way we think about water and energy can secure the long-term sustainability of both precious resources

Although it is widely understood that energy and water are the world's two most critical resources, their vital interconnections and vulnerabilities are less often recognized. This farsighted book offers a new, holistic way of thinking about energy and water—a big picture approach that reveals the interdependence of the two resources, identifies the seriousness of the challenges, and lays out an optimistic approach with an array of solutions to ensure the continuing sustainability of both.

Michael Webber, a leader and teacher in the field of energy technology and policy, explains how energy and water supplies are linked and how problems in either can be crippling for the other. He shows that current population growth, economic growth, climate change, and short-sighted policies are likely to make things worse. Yet, Webber asserts, more integrated planning with long-term sustainability in mind can avert such a daunting future. Combining anecdotes and personal stories with insights into the latest science of energy and water, he identifies a hopeful path toward wise long-range water-energy decisions and a more reliable and abundant future for humanity.
Praise For Thirst for Power: Energy, Water, and Human Survival…
"A wide-ranging, nuanced view of difficult but important issues that require serious consideration at every level, from policymakers, opinion shapers, and educators down to everyday citizens."—Kirkus Reviews

"Concise, relevant, and engaging."—E. Gomezdelcampo, Choice

"For those concerned about water and energy—which should be everybody—Michael Webber has produced a jewel of a book."—Martin J. Pasqualetti, School of Geographical Sciences and Urban Planning and the Julie Ann Wrigley Global Institute of Sustainability, Arizona State University

"A highly accessible and engaging overview of one of humanity's most pressing problems and opportunities. How we manage energy and water will shape the twenty-first century, and with guides like Dr. Webber we can use policy, technology, and economics to craft cleaner, more efficient solutions."—Philip Mezey, President and CEO, Itron, Inc.

"Webber makes a compelling case for pursuing both technological and nontechnical solutions for managing the water-energy nexus. He observes that 'in the end, the most important innovation we need is a new way of thinking about energy and water so that we make better decisions about these precious resources' and lays out the case for why and how to do that. This is an important and deeply readable book."—Susan Tierney, Analysis Group

"Few, if any, issues are more important to humanity's well-being over the next half century than the transition to cleaner energy and access to abundant, safe, and clean water. Michael Webber's well-researched and detailed, yet highly readable, new book takes the reader on a journey of the water-energy nexus and lays out concrete and actionable technical and policy solutions. This book provides a valuable road map for how to protect our most critical resources for future generations."—Jason Bordoff, Columbia University Center on Global Energy Policy

"The premise is compelling and timely. The strength of the book is its clear explanation of ways in which water is used in the production of energy and how the existing system is likely to come under considerable strain in the future."—David Sedlak, author of Water 4.0


Yale University Press, 9780300212464, 248pp.
Publication Date: April 26, 2016
About the Author
At the University of Texas at Austin, Michael E. Webber is deputy director of the Energy Institute, codirector of the Clean Energy Incubator, and Josey Centennial Professor in Energy Resources in the department of mechanical engineering. He lives in Austin, TX.
or
Not Currently Available for Direct Purchase