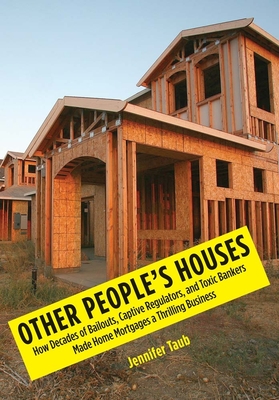 Other People's Houses
How Decades of Bailouts, Captive Regulators, and Toxic Bankers Made Home Mortgages a Thrilling Business
Paperback

* Individual store prices may vary.
Description
The clearest explanation yet of how the financial crisis of 2008 developed and why it could happen again

In the wake of the financial meltdown in 2008, many claimed that it had been inevitable, that no one saw it coming, and that subprime borrowers were to blame. This accessible, thoroughly researched book is Jennifer Taub's response to such unfounded claims. Drawing on wide-ranging experience as a corporate lawyer, investment firm counsel, and scholar of business law and financial market regulation, Taub chronicles how government officials helped bankers inflate the toxic-mortgage-backed housing bubble, then after the bubble burst ignored the plight of millions of homeowners suddenly facing foreclosure.
 
Focusing new light on the similarities between the savings and loan debacle of the 1980s and the financial crisis in 2008, Taub reveals that in both cases the same reckless banks, operating under different names, received government bailouts, while the same lax regulators overlooked fraud and abuse. Furthermore, in 2013 the situation is essentially unchanged. The author asserts that the 2008 crisis was not just similar to the S&L scandal, it was a severe relapse of the same underlying disease. And despite modest regulatory reforms, the disease remains uncured: top banks remain too big to manage, too big to regulate, and too big to fail.
Praise For Other People's Houses: How Decades of Bailouts, Captive Regulators, and Toxic Bankers Made Home Mortgages a Thrilling Business…
"Shines a pitiless light on the subprime mortgage meltdown that kicked off the Great Recession . . . . Meticulously argued and guaranteed to raise the blood pressure of the average American taxpayer."—Kirkus Reviews
— Kirkus Reviews

"Provides a concise, clear, and compelling account."—Glenn C. Altschuler, Huffington Post
— Glenn C. Altschuler

"Over the years I've read a tall stack of books about the financial crisis. Other People's Houses, by Vermont Law School professor Jennifer Taub, provides the clearest, beginning-to-end explanation I've seen of what went wrong. And Taub's beginning is a surprise: A 1993 Supreme Court decision about how bankruptcy law applies to mortgages."—Pat Regnier, Money magazine
— Pat Regnier

"[Other People's Houses] reminds us that the nation's economic troubles were entirely preventable. [Taub] pinpoints the key decisions—primarily by presidents, cabinet secretaries, key members of Congress, and government bank regulators—that allowed banks to engage in an orgy of speculation . . . They knew what they were doing and what the consequences might be."—Peter Dreier, The American Prospect
— Peter Dreier

"A must-read for those wanting to understand what happened to the American Dream of homeownership and building wealth by paying off one's mortgage. . . . Taub tells a riveting story."—Steven Pressman, Dollars & Sense
— Steven Pressman
Yale University Press, 9780300212709, 424pp.
Publication Date: May 26, 2015
About the Author
Jennifer Taub is a professor at Vermont Law School and formerly an associate general counsel at Fidelity Investments. She lives in Northampton, MA.