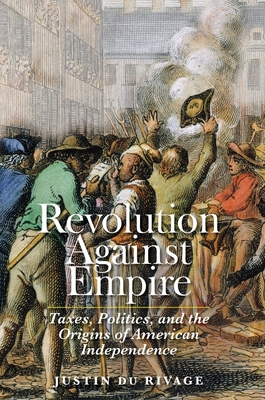 Revolution Against Empire (Hardcover)
Taxes, Politics, and the Origins of American Independence (The Lewis Walpole Series in Eighteenth-Century Culture and History)
Yale University Press, 9780300214246, 392pp.
Publication Date: June 27, 2017
* Individual store prices may vary.
Description
A bold transatlantic history of American independence revealing that 1776 was about far more than taxation without representation

Revolution Against Empire sets the story of American independence within a long and fierce clash over the political and economic future of the British Empire. Justin du Rivage traces this decades-long debate, which pitted neighbors and countrymen against one another, from the War of Austrian Succession to the end of the American Revolution.
 
As people from Boston to Bengal grappled with the growing burdens of imperial rivalry and fantastically expensive warfare, some argued that austerity and new colonial revenue were urgently needed to rescue Britain from unsustainable taxes and debts. Others insisted that Britain ought to treat its colonies as relative equals and promote their prosperity. Drawing from archival research in the United States, Britain, and France, this book shows how disputes over taxation, public debt, and inequality sparked the American Revolution—and reshaped the British Empire.
About the Author
Justin du Rivage received his Ph.D. from Yale and previously taught early American history at Stanford.
Praise For Revolution Against Empire: Taxes, Politics, and the Origins of American Independence (The Lewis Walpole Series in Eighteenth-Century Culture and History)…
"Revolution Against Empire re-situates the Revolution not as a colonial rebellion against the mother country but as one episode in a much larger political quarrel that swept the British Empire in the second half of the eighteenth century."—New Yorker
"By resurrecting the eighteenth century British debate over which direction the country should take in such fine detail, du Rivage has greatly enriched our understanding of what the participants thought was at stake and why they therefore made the decisions that they did."—Journal of the American Revolution
"Tightly reasoned . . . Recommended."—Choice
"Du Rivage offers a bold interpretation with which scholars of the period can profitably engage. . . . Good books are not necessarily books with which you are in agreement; they are books that make you consider afresh your settled views. Du Rivage's study passes that test."—Stephen Conway, Journal of Modern History
"Justin du Rivage's brilliant new book addresses key tensions as Britons on both sides of the Atlantic argued about "what kind of empire the British Empire would become" (5). This sweeping study of political ideology before and during the American Revolution, rich with details about intellectual and political history, reevaluates the work of an earlier generation of historians, calling into question their assessments regarding American exceptionalism and the standard ideas about Americans' break with Britain in 1763. Revolution against Empire is among the best books on eighteenth-century British-American affairs published in two decades."—American  Historical Review
Finalist for the Sally and Morris Lasky prize, established by the Center for Political History at Lebanon Valley College, for the best book in American political history published in 2017.
 
"Revolution Against Empire is the first book in a long while to revive the imperial approach to debating the causes of the American Revolution. It makes a novel case which restores the role of ideology in the study of eighteenth century Britain and its policies in America."—Andrew Jackson O'Shaughnessy, author of The Men Who Lost America
"An extraordinarily valuable contribution to our understanding of the Revolution's origins—and to the character of the 'empire' it gave rise to."—Peter S. Onuf, University of Virginia
"Du Rivage's brilliant Revolution Against Empire returns political economy squarely to the center of the American revolutionary experience, boldly overturning old certainties and offering a timely meditation on the nature of taxation, representation, and the role of the state in worldly affairs."—Sophus A. Reinert, author of Translating Empire: Emulation and the Origins of Political Economy
"In this meticulously researched and lucidly written book, du Rivage brilliantly traces the ideological differences in the British Empire that gave birth to political factions and ultimately sparked the American Revolution."—Carl Wennerlind, Barnard College, Columbia University
"Brilliant and thoroughly researched . . . genuinely original."—William Ashworth, University of Liverpool