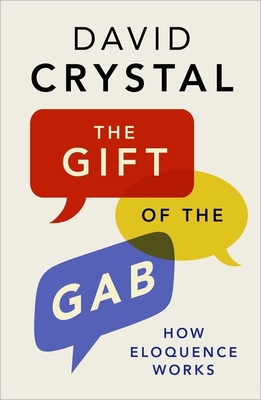 The Gift of the Gab
How Eloquence Works
Hardcover

* Individual store prices may vary.
Other Editions of This Title:
MP3 CD (3/27/2018)
Compact Disc (3/27/2018)
Description
A many-faceted exploration of spoken eloquence: how it works, how it has evolved, and how to tap its remarkable power

We all know eloquence when we hear it. But what exactly is it? And how might we gain more of it for ourselves? This entertaining and, yes, eloquent book illuminates the power of language from a linguistic point of view and provides fascinating insights into the way we use words. David Crystal, a world-renowned expert on the history and usage of the English language, probes the intricate workings of eloquence. His lively analysis encompasses everyday situations (wedding speeches, business presentations, storytelling) as well as the oratory of great public gatherings.
 
Crystal focuses on the here and now of eloquent speaking—from pitch, pace, and prosody to jokes, appropriateness, and how to wield a microphone. He explains what is going on moment by moment and examines each facet of eloquence. He also investigates topics such as the way current technologies help or hinder our verbal powers, the psychological effects of verbal excellence, and why certain places or peoples are thought to be more eloquent than others. In the core analysis of the book, Crystal offers an extended and close dissection of Barack Obama's electrifying "Yes we can" speech of 2008, in which the president demonstrated full mastery of virtually every element of eloquence—from the simple use of parallelism and an awareness of what not to say, to his brilliant conclusion constructed around two powerful words: dreams and answers.
Praise For The Gift of the Gab: How Eloquence Works…
"What do we mean by eloquence? In his new book the smart and prolific pop-linguist David Crystal sets out to give an answer—and some practical suggestions as to how any of us might work to acquire it."—Sam Leith, Financial Times

"Rhetoric has its own algebra, and Crystal deciphers it superbly."—Philip Collins, Times

"While the title might evoke blarney, wedding toasts, and garrulous relatives, this book offers far more than that. . . . Crystal takes the reader through a complete course in preparing and giving public presentations. This is a charming, intelligent book—this reviewer cannot resist calling it eloquent. . . . This reviewer learned something from every chapter. This thought-provoking book will be invaluable to those who engage in public speaking."—Choice

"David Crystal knows more about language than anyone alive, and here he applies his expertise and wisdom to the art of eloquence. This lively and endearing book explains why we respond to great speakers, and how you can become a better one."—Steven Pinker, author of The Language Instinct and The Sense of Style

"As an occasional public speaker, and a nervous one at that, I found David Crystal's gift to the gabless a reassuring read. He provides practical advice to we poor 'glossophobics' and, like all the best speeches, his book illustrates, illuminates and inspires."—Roger McGough

"David Crystal's enthusiasm for his subject is infectious. This is an entertaining, erudite and very useful guide for both the seasoned speaker and the neophyte."—Katherine Fry, co-author of Grammar for Grown-Ups

"More bakers are called Baker than is statistically likely. Or so they say. More Fishers trawl the seas and doubtless more Frys work in chip shops. They call it nominative determinism. I expect David Crystal must tire of being told how aptly limpid, pellucid and crystal-clear his writing always is. Nonetheless it is true. I have come across many books on rhetoric, on good writing, on efficient language production and countless guides to public speaking and increasing 'word power,' but the beguiling subject of eloquence has not, so far as I am aware, been tackled before and certainly not so masterfully and comprehensively. Crystal covers eloquence so damned eloquently. And with exactly that flair, accessibility, clarity, wit and authority we have come to expect from Britain's leading public linguist. This is a book that will be leapt upon by anyone curious about how language, that unimaginably powerful endowment we all share, can be elevated beyond the mundane in all kinds of discourses. This is not about hifalutin language, it is about living language. Every page crackles with insight, humour and understanding. Crystal's passion for his subject communicates quite brilliantly. I closed this superb book filled with even more enthusiasm for language than I had had when I opened it."—Stephen Fry


Yale University Press, 9780300214260, 256pp.
Publication Date: June 1, 2016
About the Author
David Crystal is an independent scholar with lifelong experience as a lecturer, public speaker, and broadcaster. He lives in Holyhead, UK.
or
Not Currently Available for Direct Purchase