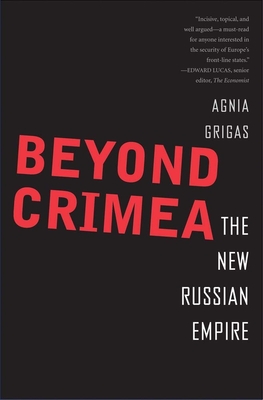 Beyond Crimea (Hardcover)
The New Russian Empire
Yale University Press, 9780300214505, 352pp.
Publication Date: February 16, 2016
* Individual store prices may vary.
Description
How will Russia redraw post-Soviet borders? In the wake of recent Russian expansionism, political risk expert Agnia Grigas illustrates how—for more than two decades—Moscow has consistently used its compatriots in bordering nations for its territorial ambitions. Demonstrating how this policy has been implemented in Ukraine and Georgia, Grigas provides cutting-edge analysis of the nature of Vladimir Putin's foreign policy and compatriot protection to warn that Moldova, Kazakhstan, the Baltic States, and others are also at risk.
About the Author
Agnia Grigas is a nonresident senior fellow at the Atlantic Council. She lives in Washington, D.C.
Praise For Beyond Crimea: The New Russian Empire…
"Incisive, topical, and well argued—a must-read for anyone interested in the security of Europe's front-line states."—Edward Lucas, Senior Editor, The Economist
— Edward Lucas
 "A brilliant analysis of the soft and hard power which Russia is using to reassert influence beyond its post-Soviet borders. Agnia Grigas's explication of Russia's strategy should be carefully studied in foreign affairs, military, and intelligence offices in Washington, DC, EU capitals, and the former Soviet States. An effective response requires such understanding."—Derek Shearer, former US Ambassador to Finland, Chevalier Professor of Diplomacy and Director of the McKinnon Center for Global Affairs, Occidental College
— Derek Shearer
"Beyond Crimea is a manual for imperial expansion 21st-century style: ramping up propaganda, handing out passports, and preparing in advance to seize opportunities. Study how it was done to learn how to avert the next time."—Jack Snyder, Robert and Renée Belfer Professor of International Relations, Columbia University
— Jack Snyder
"Anyone interested in Putin's foreign policy should read this deeply researched, superbly analyzed account of a deliberate, long-standing strategy of imperial aggrandizement whose tragic and bloody consequences we now see across the peripheries of Russia. Grigas succeeds brilliantly in laying out the phases of this strategy."—Stephen Blank, Senior Fellow, American Foreign Policy Council
— Stephen Blank
"This well-researched study sheds revealing light on Moscow's use of the Russian diaspora to increase influence and leverage over neighbouring states."—Alex Pravda, Emeritus Fellow, St. Antony's College, University of Oxford
— Alex Pravda
"This excellent book lays out the Kremlin's objectives and tactics in a clear, convincing way. Reading it will help Western policymakers and their publics understand the danger posed by Mr. Putin's aggressive polices and formulate an appropriate response."—John E. Herbst, former US Ambassador to Ukraine and Uzbekistan, Director of the Dinu Patriciu Eurasia Center,  The Atlantic Council
— John Herbst
"A compelling analysis of the drivers and methods of Moscow's foreign policy, demonstrating how Russia leverages it compatriots and employs a mix of soft power, disinformation, cyber and hybrid warfare. This book should serve as a wake-up call for Western policy makers and their publics." —Toomas Hendrik Ilves, President of the Republic of Estonia
— Toomas Hendrik Ilves
"Grigas sheds new light on our understanding of Kremlin's aims in the post Soviet space. A must read for those seeking to make sense of Putin's policies in Ukraine, Georgia, Moldova, the Baltic States and beyond."—Michael McFaul, Director of the Freeman Spogli Institute for International Studies, Stanford University
— Michael McFaul
or
Not Currently Available for Direct Purchase