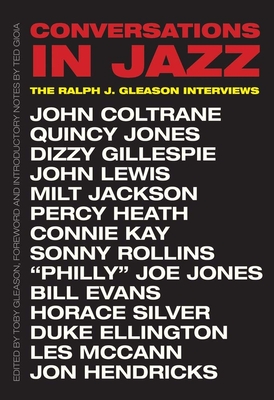 Conversations in Jazz
The Ralph J. Gleason Interviews
Hardcover

* Individual store prices may vary.
Other Editions of This Title:
Paperback (9/8/2020)
Description
An extraordinary collection of revealing, personal interviews with fourteen jazz music legends

During his nearly forty years as a music journalist, Ralph J. Gleason recorded many in-depth interviews with some of the greatest jazz musicians of all time. These informal sessions, conducted mostly in Gleason's Berkeley, California, home, have never been transcribed and published in full until now.
 
This remarkable volume, a must-read for any jazz fan, serious musician, or musicologist, reveals fascinating, little-known details about these gifted artists, their lives, their personas, and, of course, their music. Bill Evans discusses his battle with severe depression, while John Coltrane talks about McCoy Tyner's integral role in shaping the sound of the Coltrane quartet, praising the pianist enthusiastically. Included also are interviews with Dizzy Gillespie, Sonny Rollins, Quincy Jones, Jon Hendricks, and the immortal Duke Ellington, plus seven more of the most notable names in twentieth-century jazz.
Praise For Conversations in Jazz: The Ralph J. Gleason Interviews…
"Fresh and defining anthologies of the writer."—Will Hermes, Rolling Stone

"[A] treasure trove of previously unavailable interviews by a premier journalist who unfailingly asked perceptive and probing questions."—Library Journal

"For fans of jazz from the mid-twentieth century, these interviews will prove fascinating."—Booklist

"A godsend to folks like me who already know and admire [Gleason's] work—and a standard setter for those who should know him."—Felix Contreras, NPR Books

"One of the happier publishing surprises of the year."—Jeff Simon, Buffalo News

"A fine start to what should be a shelf of books on Gleason and his achievement."—Beyond Chron

"Two important new collections . . . both make for absorbing and instructive reading, in quite different ways."—Nate Chinen, Jazz Times

"Time and again Gleason helps an artist explain his essence at a crucial point in his career, capturing a very important moment in time."—Downbeat

"[Gleason's] cultural moment is very much alive in [this] work."—Ron Slate, On the Seawall

"Ralph Gleason had a masterfully succinct interviewing style, and he elicited the candid thoughts of his subjects whose responses create a time capsule of a fascinating moment in jazz. This book is a portal into the mystic and insular world of jazz musicians and their interest in both tradition and innovation. I recommend this book to anyone who is curious about how the music is understood by the people who play it."—Lenny Pickett

"Louis Armstrong once declared: 'What we play is life.' For his part, Ralph J. Gleason venerated and joyfully embraced the music of life and the musicians who played it, and the the memorable interviews that he conducted with the extraordinary jazz creators featured in this book are themselves revelatory conversation-performances that illuminate with wit, depth, love, and insight the life and soul of music itself."—Jonathan Cott

"I've been digging Ralph Gleason's dialogues in jazz since before I was born! My father and Ralph were still teenagers when John Hammond brought the first Lester Young recordings to them in a dorm room. So the discussions began. I heard some later ones on their original broadcasts, but the interviews in this book come from a private stash—at home—somewhat as it started 80 years ago."—Phil Schaap

"Ralph Gleason brought jazz into countless American living rooms during the 1960s through his TV series, 'Jazz Casual.' Yet the one-on-one discussions in his own Berkeley living room—tape recorder rolling, Gleason and one or another of jazz's greats sitting in overstuffed leather chairs—tell deeper stories. Here, framed with a wise and light touch by Ted Gioia, we get windows into personal worlds: John Coltrane on the cusp of a breakthrough; Sonny Rollins entering a period of reclusion; 'Philly' Joe Jones sharing drumming tradecraft and history; Duke Ellington explaining why, in music as in life, problems are opportunities."—Larry Blumenfeld

"What a great opportunity to eavesdrop on these conversations with some of my musical heroes. Trane, Duke, Sonny. Are you kidding?"—Steve Elson


Yale University Press, 9780300214529, 296pp.
Publication Date: May 24, 2016
About the Author
One of the most influential music journalists of his era, Ralph J. Gleason (1917–1975) was co-founder of Rolling Stone magazine and the author of numerous articles and three highly regarded books on music and musicians. Toby Gleason is a veteran jazz radio producer, programmer, and host, and a former assistant editor at Rolling Stone.
or
Not Currently Available for Direct Purchase