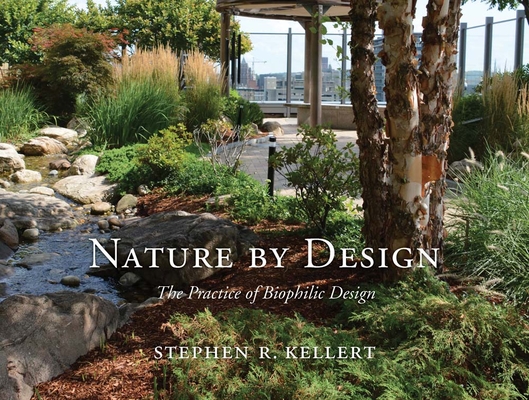 Nature by Design
The Practice of Biophilic Design
Hardcover

* Individual store prices may vary.
Description
Biophilia is the theory that people possess an inherent affinity for nature, which developed during the long course of human evolution. In recent years, studies have revealed that this inclination continues to be a vital component to human health and wellbeing. Given the pace and scale of construction today with its adversarial, dominative relationship with nature, the integration of nature with the built environment is one of the greatest challenges of our time.

In this sweeping examination, Stephen Kellert describes the basic principles, practices, and options for successfully implementing biophilic design. He shows us what is—and isn't—good biophilic design using examples of workplaces, healthcare facilities, schools, commercial centers, religious structures, and hospitality settings. This book will to appeal to architects, designers, engineers, scholars of human evolutionary biology, and—with more than one hundred striking images of designs—anyone interested in nature‑inspired spaces.
Praise For Nature by Design: The Practice of Biophilic Design…
"This posthumous book by Stephen R. Kellert, a pioneering social ecologist at Yale, provides beautifully illustrated examples of designs that successfully integrate nature into built environments."—Barbara Paul Robinson, The Wall Street Journal

"A thoughtful look at architecture through the lens of biophilia-our affinity for nature and the processes of life." —Michael Cockram, Architectural Record

"Biophilic design is more than an important service to health, productivity, performance, and well-being. Kellert. . . advocates for an emotional engagement with romantic nature as flora, fauna, light, air, water, and so on, the complement to modern empiricism's rational and scientific engagement."—C.W. Westfall, Choice

"Nature by Design does a masterful job translating research on the human and ecological benefits of biophilia into vivid, useful examples integrating culture, history, and aesthetics into a coherent whole."—Judith Heerwagen, co-editor of Biophilic Design: The Theory, Science and Practice of Bringing Buildings to Life

"There are few more pressing problems than finding a sustainable balance in the human-nature relationship, and there are few writers who have made a greater contribution to that search in the field of environmental design than Stephen Kellert."—Kevin Nute, author of Vital: Using the Weather to Bring Buildings and Sustainability to Life

"Wonderfully illustrated, compelling, and authoritative, Nature by Design reveals how application of our innate affinity with nature is so important to design aesthetics. People and the built world benefit profoundly when we embrace this principle."—Thomas E. Lovejoy, George Mason University; Science Envoy, Department of State

"Nature by Design captivates the reader with artful prose and images illustrating benefits of biophilic design to societies around the world; nature-inspired architecture and landscaping that at once soothe and invigorate human emotions, and fundamentally elevate the human condition."—Daniel J. Witter, D.J. Case & Associates 

"This richly illustrated book shows how incorporating biophilic design principles into buildings can contribute to the health and well-being of people who spend much of their lives in them."—Gordon H. Orians, author of Snakes, Sunrises, and Shakespeare: How Evolution Shapes Our Loves and Fears


Yale University Press, 9780300214536, 224pp.
Publication Date: April 17, 2018
About the Author
Stephen R. Kellert (1943–2016) was the Tweedy Ordway Professor Emeritus of Social Ecology and senior research scholar at the Yale University School of Forestry and Environmental Studies. He was the recipient of many awards and honors and author or editor of more than ten books.