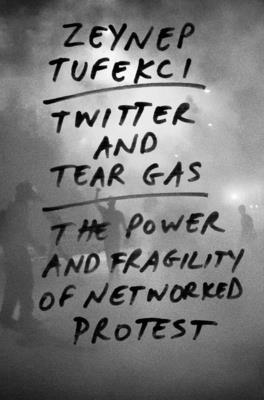 Twitter and Tear Gas (Hardcover)
The Power and Fragility of Networked Protest
Yale University Press, 9780300215120, 360pp.
Publication Date: May 16, 2017
Other Editions of This Title:
Paperback (4/24/2018)
MP3 CD (7/25/2017)
* Individual store prices may vary.
Description
A firsthand account and incisive analysis of modern protest, revealing internet-fueled social movements' greatest strengths and frequent challenges

To understand a thwarted Turkish coup, an anti–Wall Street encampment, and a packed Tahrir Square, we must first comprehend the power and the weaknesses of using new technologies to mobilize large numbers of people. An incisive observer, writer, and participant in today's social movements, Zeynep Tufekci explains in this accessible and compelling book the nuanced trajectories of modern protests—how they form, how they operate differently from past protests, and why they have difficulty persisting in their long-term quests for change.
 
Tufekci speaks from direct experience, combining on-the-ground interviews with insightful analysis. She describes how the internet helped the Zapatista uprisings in Mexico, the necessity of remote Twitter users to organize medical supplies during Arab Spring, the refusal to use bullhorns in the Occupy Movement that started in New York, and the empowering effect of tear gas in Istanbul's Gezi Park. These details from life inside social movements complete a moving investigation of authority, technology, and culture—and offer essential insights into the future of governance.
About the Author
Zeynep Tufekci is a contributing opinion writer for the New York Times, associate professor at the University of North Carolina School of Information and Library Science, and a faculty associate at the Harvard Berkman Klein Center for Internet and Society.
Praise For Twitter and Tear Gas: The Power and Fragility of Networked Protest…
"Tufekci believes that digital-age protests are not simply faster, more responsive versions of their mid-century parents. They are fundamentally distinct."—Nathan Heller, New Yorker
"This comprehensive, thought-provoking work makes a valuable contribution to understanding recent political developments and provides a clear path by which grassroots organizers can improve future efforts."—Publishers Weekly
"Twitter and Tear Gas is packed with evidence on how social media has changed social movements, based on rigorous research and placed in historical context."—Hannah Kuchler, Financial Times
"Insightful and entertaining. . . . Twitter and Tear Gas is infused with a richness of detail stemming from [Tufekci's] personal participation in the 2013 Gezi Park protests in Turkey. . . . Tufekci writes with a warmth and respect for the humans that are part of these powerful social movements, gently intertwining her own story with the stories of others, big data, and theory."—Bruce Schneier, Motherboard
"The book's claims are relevant for those organizing protests or studying them, but not exclusively. . . . What's more, repressive governments themselves could learn from the book what platforms are being used to undermine their attempts at censorship, and more importantly, how."—Melissa Altman, Voluntas
"A striking and original conclusion: today's low barrier for organizing a movement can also lead to its long-term frustrations. Tufekci's superb book will define the debate on social protest for years to come."—Dani Rodrik, author of Economic Rules: The Rights and Wrongs of the Dismal Science
"Tufekci is undoubtedly the most qualified person in the world to explain the meaning of political collective actions catalyzed and coordinated by social media. She knows the technology, the social science, and the politics—and she is the rare academic observer who was at the scene, from Istanbul to Cairo to New York."—Howard Rheingold, author of Smart Mobs: The Next Social Revolution
"Incisive and illuminating, Tufekci's book arrives at the perfect moment, right when we desperately need our activism to become smarter and more effective than ever before, or else."— Astra Taylor, author of The People's Platform: Taking Back Power and Culture in the Digital Age and co-founder of the Debt Collective
"Many have asked why people rebel, but few describe how. Here, Tufekci uses firsthand observation to offer an intelligent and informed examination of the tools and nature of today's political protests."—Vali Nasr, author of The Dispensable Nation and The Shia Revival
"For all the claims that new technologies afford grassroots movements new power, research on the topic is rare. Tufekci's book provides just that—and a cautionary conclusion."—Doug McAdam, author of Deeply Divided: Racial Politics and Social Movements in Postwar America
or
Not Currently Available for Direct Purchase