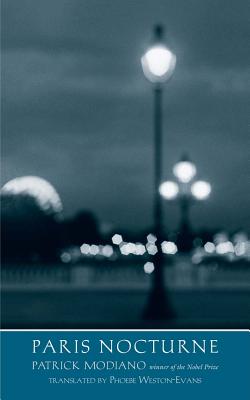 Paris Nocturne
A Novel (The Margellos World Republic of Letters)
Paperback

* Individual store prices may vary.
Description
An accident, a vanishing, a memory gap, a strange dream: a classic noir work of fiction by Nobel laureate Patrick Modiano

This uneasy, compelling novel begins with a nighttime accident on the streets of Paris. The unnamed narrator, a teenage boy, is hit by a car whose driver he vaguely recalls having met before. The mysterious ensuing events, involving a police van, a dose of ether, awakening in a strange hospital, and the disappearance of the woman driver, culminate in a packet being pressed into the boy's hand. It is an envelope stuffed full of bank notes. The confusion only deepens as the characters grow increasingly apprehensive; meanwhile, readers are held spellbound.

Modiano's low-key writing style, his preoccupation with memory and its untrustworthiness, and his deep concern with timeless moral questions have earned him an international audience of devoted readers. This beautifully rendered translation brings another of his finest works to an eagerly waiting English-language audience. Paris Nocturne has been named "a perfect book" by Libération, while L'Express observes, "Paris Nocturne is cloaked in darkness, but it is a novel that is turned toward the light."
Praise For Paris Nocturne: A Novel (The Margellos World Republic of Letters)…
"The world of Pedigree is the demi-monde of shady deals, aliases, informers and men on the run. It is equally a world in which Raymond Queneau befriends the aspiring author. . . . Quite a pedigree has this ever-more-fascinating Nobel Prize-winner."—Times Literary Supplement

"Mr Modiano's novels are pervaded by a sexual and moral ambivalence and by social and political ambiguity. Improbable aristocrats, likable eccentrics, would-be actresses, circus performers and cabaret workers—no one is ever who they appear to be. And Paris features as a character in her own right, refusing to surrender the secrets of her past."—The Economist

"A timely glimpse at [Modiano's] fixations . . . In Mark Polizzotti's spare and elegant translation, the writing conveys a sense of dreamy unease in which the real, the hypothesized, and the half-forgotten blend into a shimmering vagueness."—Sam Sacks, Wall Street Journal

"Elegant . . . quietly unpretentious, approachable . . . Though enigmatic and open-ended, Modiano's remembrances of things past and his probings of personal identity are presented with a surprisingly light touch. He is, all in all, quite an endearing Nobelist."—Michael Dirda, Washington Post

"Mr. Modiano writes clear, languid, and urbane sentences in Mr. Polizzotti's agile translation . . . these novellas have a mood. They cast a spell."—Dwight Garner, New York Times

"A haunting tramp across the years in search of a woman named Jacqueline, but also of lost places and past selves."—Charlotte Rogan, in the San Francisco Chronicle's "Writer's Favorite Books of 2015"

"The power of Paris Nocturne lies in its convincing evocation of [a] kind of deja vu, this uncertainty whether past is present or present is past. . . . Paris Nocturne, as its title suggests, has the nighttime logic of a dream."—Adam Kirsch, Daily Beast

"A chilling portrait of everyday obsession . . . a sober and satisfying reminder of life's slipperiness . . . edgy and distilled . . . intriguing and readable."—Barbara Hoffert, Library Journal (starred review)

"This novel provides a superb and—at 160 pages—accessible entry to [Modiano's] writings. . . . The narrator's search for Jacqueline propels the novel forward with the intensity of a noir. But Modiano is not writing mere pulp; the novel's true center is the past's pull, the way memories lay dormant for years only to explode 'like a time bomb.'"—Publishers Weekly

"Like W. G. Sebald, another European writer haunted by memory and by the history that took place just before he was born, Modiano combines a detective's curiosity with an elegist's melancholy."—Adam Kirsch, New Republic

"This is classic Modiano . . .  shapely, of the Modiano books to appear this year (and since he won the Nobel last year, more are expected), Paris Nocturne is the most accessible, and satisfying."—Michael Autrey, Booklist

"It is easy to become totally engrossed in this work . . . Reading Modiano can be an addicting experience . . . A reader would have to have a heart of granite not to identify empathetically with this speaker as he reveals his life—in its many different aspects across time—and with the author whose own life parallels, if not duplicates, these events."—Mary Whipple, Seeing the World Through Books (blog)

"Beautifully written and translated . . . simultaneously realistic and hallucinatory, suspenseful and calm, and finally, poignant."—Ariel Balter, New York Journal of Books

"[Paris Nocturne] feels like a strange, ephemeral lyric poem to post-war Paris. . . . Ultimately, the book, and much of Modiano's work, is about the necessity of remembering the traces of human life which history can't record and rendering them in art—unverifiable, ambiguous, lasting."—Karl Williams, Michigan Daily

"Modiano writes as though through a scrim, at once transparent and cloudy, and shows us something that is beautiful because it is precisely imprecise, because it cannot, will not, may not be known."—Yevgeniya Traps, Forward

"[A] haunting novel . . . Modiano's limpid and elliptical style blend[s] vagueness and precision, realism and dreaminess."—Gerald Prince, World Literature Today

Longlisted for the 2016 PEN/Translation prize given by PEN America

Shortlisted for the 2016 Australian Academy of the Humanities Translation Prize


Yale University Press, 9780300215885, 160pp.
Publication Date: October 27, 2015
About the Author
Patrick Modiano, winner of the 2014 Nobel Prize for literature and an internationally beloved novelist, has been honored with an array of prizes, including the 2010 Prix mondial Cino Del Duca by the Institut de France for lifetime achievement and the 2012 Austrian State Prize for European Literature. He lives in Paris. Phoebe Weston-Evans is a freelance translator and editor.
or
Not Currently Available for Direct Purchase