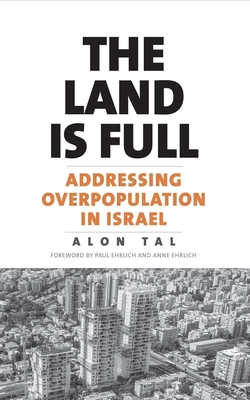 The Land Is Full
Addressing Overpopulation in Israel
Hardcover

* Individual store prices may vary.
Description
An assessment of how Israel's extraordinary population growth undermines the country's environment, social equity, and quality of life—and what must be done about it

During the past sixty-eight years, Israel's population has increased from one to eight million people. Such exponential growth has produced acute environmental and social crises in this tiny country. Alon Tal, one of Israel's foremost environmentalists, considers the ramifications of the extraordinary demographic shift, from burgeoning pollution and dwindling natural resources to overburdened infrastructure and overcrowding. Based on extensive fieldwork and interviews, the book examines the origins of Israel's population policies and how they must change to support a sustainable future.
Praise For The Land Is Full: Addressing Overpopulation in Israel…
"In this brilliant book a leading environmental scientist, Alon Tal, focuses attention on a key element in his nation's ecological predicament—its vast overpopulation."—Paul R. Ehrlich and Anne Ehrlich, authors of The Annihilation of Nature
— Paul R. Ehrlich and Anne Ehrlich

"The Land Is Full is the first comprehensive attempt to raise the issue of population growth in Israel and its social, economic, and environmental implications. Tal crosses a dizzying range of controversial subjects with passion, persistence, and sensitivity." —Daniel E. Orenstein, Technion - Israel Institute of Technology
— Daniel E. Orenstein

"For twenty-five years Alon Tal has been on the front lines of Israel's struggle for sustainability. His book asks hard questions, offers practical solutions, and demonstrates how a country can turn over a new leaf to truly become a promised land."—Tzipi Livni, Member of Knesset and former Foreign Minister and Minister of Justice of Israel
— Tzipi Livni

"As Israel's leading environmental activist and scholar, Tal is well-positioned to examine the dire consequences of Israel's overpopulation crisis. He exposes the complex ways that mass immigration, pronatalist policies, and unlimited economic growth have been at once central to Israel's identity, and the source of devastating social and ecological outcomes. This book is courageous."—Michele Rivkin-Fish, University of North Carolina, Chapel Hill
— Michele Rivkin-Fish

"Offering compelling, insightful chapters mixing history, sociology, demography, environmental science, and Zionist thought—The Land is Full is a tour de force."—Gil Troy, McGill University and columnist, The Jerusalem Post
— Gil Troy

"Like the best social critics, Tal is at once a visionary, a moralist, and a provocateur. Starting from irreproachable environmentalist assumptions, he reaches political conclusions that are impossible to ignore."—Noah Efron, Bar Ilan University and host of "The Promised Podcast"
— Noah Efron
Yale University Press, 9780300216882, 408pp.
Publication Date: August 9, 2016
About the Author
Professor Alon Tal founded the Israel Union for Environmental Defense in 1990 and the Arava Institute for Environmental Studies in 1997. He has held academic appointments at Tel Aviv, Ben Gurion, Stanford, Otago, and Harvard Universities. He is presently a professor of environmental policy at the Ben-Gurion University of the Negev and lives in Maccabim, Israel.
or
Not Currently Available for Direct Purchase