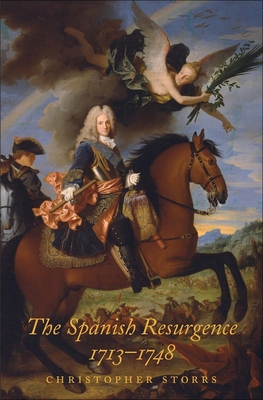 The Spanish Resurgence, 1713-1748 (The Lewis Walpole Series in Eighteenth-Century Culture and History) (Hardcover)
Yale University Press, 9780300216899, 328pp.
Publication Date: October 25, 2016
* Individual store prices may vary.
Description
A major reassessment of Philip V's leadership and what it meant for the modern Spanish state

Often dismissed as ineffective, indolent, and dominated by his second wife, Philip V of Spain (1700–1746), the first Bourbon king, was in fact the greatest threat to peace in Europe during his reign. Under his rule, Spain was a dynamic force and expansionist power, especially in the Mediterranean world. Campaigns in Italy and North Africa revitalized Spanish control in the Mediterranean region, and the arrival of the Bourbon dynasty signaled a sharp break from Habsburg attitudes and practices. Challenging long-held understandings of early eighteenth-century Europe and the Atlantic world, Christopher Storrs draws on a rich array of primary documents to trace the political, military, and financial innovations that laid the framework for the modern Spanish state and the coalescence of a national identity. Storrs illuminates the remarkable revival of Spanish power after 1713 and sheds new light on the often underrated king who made Spain's resurgence possible.
About the Author
Christopher Storrs teaches at the University of Dundee and is the author of multiple books on European history, including The Resilience of the Spanish Monarchy 1665–1700. He lives in Dundee, UK.
Praise For The Spanish Resurgence, 1713-1748 (The Lewis Walpole Series in Eighteenth-Century Culture and History)…
"This is a major and important study, based upon enormously wide-ranging and detailed research, and one with very considerable implications for how we see the early decades of Bourbon rule in Spain."—Hamish Scott, University of Glasgow

— Hamish Scott
"Storrs offers a major reassessment of Spain, away from an Atlanticist account and, instead, toward one grounded on Mediterranean concerns. In focusing on the Spanish state, he provides an opportunity to re-think the standard narrative of European history."—Jeremy Black, University of Exeter

— Jeremy Black
"The first modern attempt to reevaluate the traditional narrative of Spanish policy under Spain's first Bourbon king, Philip V."—Choice
— Choice
or
Not Currently Available for Direct Purchase