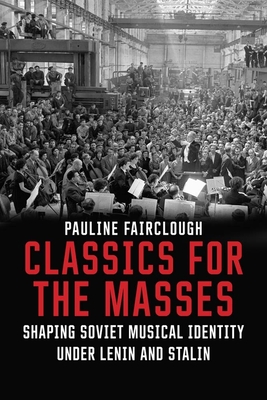 Classics for the Masses
Shaping Soviet Musical Identity under Lenin and Stalin
Hardcover

* Individual store prices may vary.
Description
Musicologist Pauline Fairclough explores the evolving role of music in shaping the cultural identity of the Soviet Union in a revelatory work that counters certain hitherto accepted views of an unbending, unchanging state policy of repression, censorship, and dissonance that existed in all areas of Soviet artistic endeavor. Newly opened archives from the Leninist and Stalinist eras have shed new light on Soviet concert life, demonstrating how the music of the past was used to help mold and deliver cultural policy, how "undesirable" repertoire was weeded out during the 1920s, and how Russian and non-Russian composers such as Mozart, Tchaikovsky, Wagner, Bach, and Rachmaninov were "canonized" during different, distinct periods in Stalinist culture. Fairclough's fascinating study of the ever-shifting Soviet musical-political landscape identifies 1937 as the start of a cultural Cold War, rather than occurring post-World War Two, as is often maintained, while documenting the efforts of musicians and bureaucrats during this period to keep musical channels open between Russia and the West.
Praise For Classics for the Masses: Shaping Soviet Musical Identity under Lenin and Stalin…
"These books give fuller, finer-grained and better-shaded accounts of Soviet policy ups and downs and their impact on musicians than any previous study."—Richard Taruskin, Times Literary Supplement

"Indeed, Fairclough is the first to assemble a broad picture of music making in Soviet Russia's elite institutions and the ways in which it differed from other Soviet arts. Even though she assumes substantial fluency in Soviet musical culture and pan-European musical trends, Classics for the Masses is essential reading for any scholar of Stalinist culture."—Kevin M. Bartig, Slavic Review

"Noteworthy not only for opening another door into the Soviet music world but also for its subtle, informed analysis."—Choice

"Compelling . . . a must-read."—Simon Mikkonen, European History Quarterly 

"A masterpiece"—Sabrina P. Mamet, Europe-Asia Studies

"Specialist scholars will come away with a clear sense of the whimsical changes in approved repertoire between 1917 and 1953 as well as the techniques of re-branding composers to accommodate those policy shifts."—Judith Kuhn, Notes Quarterly Journal
 

"Thoughtful and thorough, . . . deserve[s] a wide audience. It will take time for [its] implications to filter into scholarship, teaching, and performing, but filter they necessarily will."—Peter Schmelz, Twentieth-Century Music

"In this excellent study, Pauline Fairclough analyzes a topic of fundamental importance to our understanding of Soviet musical life: the relationship between music policy, the programming practices of Soviet performing ensembles, and critical reception. . . . It is a fascinating read. . . . Classics for the Masses is highly recommended to those interested in Soviet music, Soviet cultural life, and the everyday practices that shaped the opportunities and experiences of the Soviet urban population during the first half of the Soviet period."—Kiril Tomoff, Russian Review

Won the 2017 Choice Award for Outstanding Academic Title

Has just been awarded the Women's Forum Book Prize of the British Association of Slavonic and East European Studies (BASEES).


Yale University Press, 9780300217193, 296pp.
Publication Date: May 24, 2016
About the Author
Pauline Fairclough is senior lecturer in music, University of Bristol, United Kingdom, where her special interest is Soviet music and culture.
or
Not Currently Available for Direct Purchase