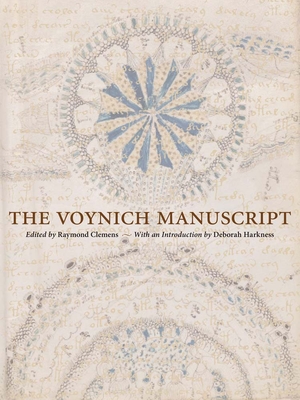 The Voynich Manuscript (Hardcover)
Yale University Press, 9780300217230, 304pp.
Publication Date: November 1, 2016
* Individual store prices may vary.
Description
"For people who like a good historical mystery, this first authorized publication of the fifteenth- or sixteenth-century Voynich Manuscript will fascinate."—Rebecca Onion, Slate
 
"The Voynich MS has inspired generations of enthusiasts dedicated to deciphering it . . . This beautiful facsimile will make it available for many more people to become enticed and entranced by it."—David V. Barrett, Fortean Times
 
"All told, the new edition should continue to stoke interest in the eternally mysterious artifact."—New Criterion
 
Many call the fifteenth-century codex, commonly known as the "Voynich Manuscript," the world's most mysterious book. Written in an unknown script by an unknown author, the manuscript has no clearer purpose now than when it was rediscovered in 1912 by rare books dealer Wilfrid Voynich. The manuscript appears and disappears throughout history, from the library of the Holy Roman Emperor Rudolf II to a secret sale of books in 1903 by the Society of Jesus in Rome. The book's language has eluded decipherment, and its elaborate illustrations remain as baffling as they are beautiful. For the first time, this facsimile, complete with elaborate folding sections, allows readers to explore this enigma in all its stunning detail, from its one-of-a-kind "Voynichese" text to its illustrations of otherworldly plants, unfamiliar constellations, and naked women swimming though fantastical tubes and green baths.
 
The essays that accompany the manuscript explain what we have learned about this work—from alchemical, cryptographic, forensic, and historical perspectives—but they provide few definitive answers. Instead, as New York Times best-selling author Deborah Harkness says in her introduction, the book "invites the reader to join us at the heart of the mystery."
About the Author
Raymond Clemens is Curator of Early Books and Manuscripts at the Yale University Beinecke Rare Book & Manuscript Library and coauthor of Introduction to Manuscript Studies.
Deborah Harkness is a historian of science, professor at the University of Southern California, and the author of the New York Times best-selling All Souls trilogy.
Praise For The Voynich Manuscript…
"For the first time, a complete reproduction [of] The Voynich Manuscript, has been published, featuring essays exploring what is known about the book and extra-wide margins so readers can record their responses to its beguiling, beautiful strangeness."—Nina Maclaughlin, Boston Globe
"For people who like a good historical mystery, this first authorized publication of the fifteenth- or sixteenth-century Voynich Manuscript will fascinate."—Rebecca Onion, Slate
"The Voynich MS has inspired generations of enthusiasts dedicated to deciphering it . . . This beautiful facsimile will make it available for many more people to become enticed and entranced by it."—David V. Barrett, Fortean Times
"Handsome and well-produced. . . This fascimilie and the accompanying series of essays give a clear sense of the current state of knowledge on the manuscript and reveal the findings of new research."—H.R. Woud Huysen, Times Literary Supplement
"The publication by Yale University Press of an actual-size colored facsimile, with an informative set of specialist essays on the manuscript's history, materials, cryptological puzzles, and public impact, will no doubt encourage wider engagement with its enigmas and set off a multitude of amateur as well as professional attempts to decipher it."—Eamon Duffy, New York Review of Books
"Bibliophiles rejoice—one of the book world's most fascinating and enduring riddles is now available for all to examine. The so-called 'Voynich Manuscript' is proof that, even in our increasingly demystified world, mystery is still alive. . . . For the first time, Yale has reprinted the manuscript in full, in a gorgeous new edition coupled with scholarly essays on the book. All told, the new edition should continue to stoke interest in the eternally mysterious artifact."—New Criterion
"A mouthwatering facsimile of the incunabulum, complete with foldout pages — one origamied into six folios — and a handful of scholarly interrogations."—Peter Lewis, Minneapolis Star-Tribune
"[A] very high-quality reproduction of the manuscript . . . [and] the essays are valuable additions to the facsimile."—Jesse Siragan Arlen, Comitatus
"This volume sets out clearly and succinctly the current state of knowledge about this remarkable manuscript."—Toby Burrows, Parergon
"This new book, reproducing the entire Voynich Manuscript, is a godsend. While the essays offer valid clues to the manuscript's age and relation to late medieval science, the manuscript itself stubbornly refuses to yield its secrets."—Roger S. Wieck, Department of Medieval and Renaissance Manuscripts, The Morgan Library & Museum
"A book worthy of its subject in every way. Clemens and his collaborators have done an extraordinary job teasing out some of the secrets and wonders of the enigmatic Voynich Manuscript in ways that will make this volume an invaluable resource for many years to come."—Bruce Holsinger, author of A Burnable Book
"Many hands have held Voynich's now-eponymous book over the centuries . . . yet none of them have managed convincingly to solve its mysteries."—Deborah Harkness, from the Introduction