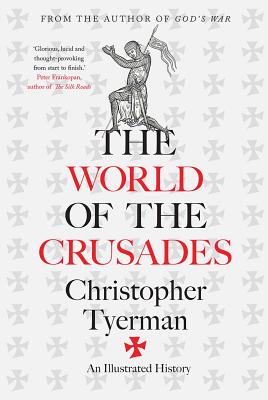 The World of the Crusades
Hardcover

* Individual store prices may vary.
Description
A lively reimagining of how the distant medieval world of war functioned, drawing on the objects used and made by crusaders

Throughout the Middle Ages crusading was justified by religious ideology, but the resulting military campaigns were fueled by concrete objectives: land, resources, power, reputation. Crusaders amassed possessions of all sorts, from castles to reliquaries. Campaigns required material funds and equipment, while conquests produced bureaucracies, taxation, economic exploitation, and commercial regulation. Wealth sustained the Crusades while material objects, from weaponry and military technology to carpentry and shipping, conditioned them.
 
This lavishly illustrated volume considers the material trappings of crusading wars and the objects that memorialized them, in architecture, sculpture, jewelry, painting, and manuscripts. Christopher Tyerman's incorporation of the physical and visual remains of crusading enriches our understanding of how the crusaders themselves articulated their mission, how they viewed their place in the world, and how they related to the cultures they derived from and preyed upon.

A note to readers: the grey-shaded pages throughout this volume look at the Crusades in detail, exploring individual themes such as food and drink, medicine, weapons and women's role in the Crusades. These short essays are interspersed throughout the chapters and the main text will continue after each one. For instance, 'Taking the Cross' runs from pages 4 to 7, and the Introduction continues on p. 8.
Praise For The World of the Crusades…
"Tyerman is a judicious and scholarly guide and readers will feel that they are drinking the distillation of a lifetime's work on its subject"—James Barr, The Times

"This entertaining, informative volume . . . considers the Crusades from a human level. Historians and lay readers interested in the history of European conquest in the Middle East will relish this investigation into the grist of the Crusaders' journey."—Publishers Weekly

"An authoritative and beautiful browsing reference."—Booklist

"An excellent history . . . extraordinary fulsome study."—Josephine Livingstone, The New Republic 

"The World of the Crusades easily stands head and shoulders above the crowd for its readability, attractive illustrations, thoroughness and value. This is an accessible, comprehensive and beautifully-illustrated volume by one of the greatest living scholars of the crusades."—Jeffrey Miner, The Bowling Green Daily News

"Strong in analysis and synthesis . . . copiously and beautifully illustrated."—Robert Irwin, New York Review of Books 


Yale University Press, 9780300217391, 520pp.
Publication Date: May 23, 2019
About the Author
Christopher Tyerman is professor of the history of the crusades at Oxford University and a fellow of Hertford College. His books include God's War, The Debate on the Crusades, and How to Plan a Crusade. He lives in Oxford.
or
Not Currently Available for Direct Purchase