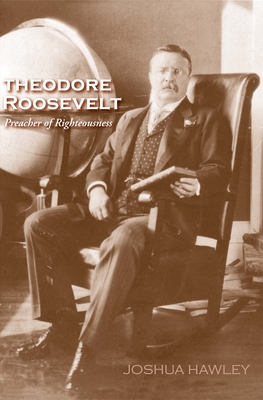 Theodore Roosevelt
Preacher of Righteousness
Paperback

* Individual store prices may vary.
Description
An exploration of Roosevelt's political thought and the impact of his legacy on modern America

"Hawley has pieced together an interesting interpretation of Theodore Roosevelt"—Choice

Often dismissed by scholars as an opportunistic politician whose ideas lacked historical import, Theodore Roosevelt has been underestimated as a thinker. But to disdain Roosevelt's politics is to overlook his important and lasting contributions to the shape of modern America, says the author of this compelling study of the 26th president of the United States. Senator Joshua Hawley examines Roosevelt's political thought more deeply than ever before to arrive at a fully revised understanding of his legacy: Roosevelt galvanized a twenty-year period of national reform that permanently altered American politics and Americans' expectations for government, social progress, and presidents.
The book explores the historical context of Theodore Roosevelt's politics, its intellectual sources, its practice, and its effect on his era and our own. Hawley finds that Roosevelt developed a coherent political science centered on the theme of righteousness, and this "warrior republicanism" was what made the progressive era possible. The debates of Roosevelt's era were driven largely by his ideas, and from those debates emerged the grammar of our contemporary politics. Casting new light on the fertility and breadth of Roosevelt's thought, Hawley reveals the full extent of his achievement in twentieth-century intellectual history.
Praise For Theodore Roosevelt: Preacher of Righteousness…
"Hawley has pieced together an interesting interpretation of Theodore Roosevelt. . . . [A] well-written, insightful book. Recommended."—
Choice
"Joshua David Hawley has made a contribution to this literature with a different kind of biography, offering a fresh interpretation of Roosevelt. . . . Hawley is an impressive researcher . . . at times eloquent. . . . This is a persuasive book." —Ryan J. Barilleaux,
The Historian
"Joshua Hawley . . . considers Roosevelt as a serious political thinker whose creed is worthy of our attention. As a result, the 26th president emerges as a complicated figure, not the shoot-from-the-hip outdoorsman, whom Mark Hanna derided as 'that damned cowboy.' . . . The author analyzes his subject so as to explain how a headstrong, elitist continues to be listed among our greater presidents."—John M. and Priscilla S. Taylor,
Washington Times
"Joshua Hawley's achievement is that he does not let us forget that, with all his idiosyncrasies, Theodore Roosevelt remains one of America's great figures."—Henry S. Cohn,
The Federal Lawyer
". . . remarkable first book." —Jean M. Yarbrough,
Claremont Review of Books
"Hawley situates Roosevelt in a rich political/intellectual culture that stretches from the 1870s until the First World War and provides a perspective on Theodore Roosevelt that is largely missing from current historiography."—Mark Lytle, Bard College
"A fresh and persuasive approach to Theodore Roosevelt."—John Morton Blum, Yale University
"Theodore Roosevelt deserves to be acknowledged at least as much for what he thought as for what he did, and with this book Hawley at last redresses the balance between Roosevelt the thinker and Roosevelt the doer. Those who read Preacher of Righteousness will never again be able to dismiss him simply as 'pure act', a legendary description archly tendered by Roosevelt's learned friend, Henry Adams."—From the Foreword by David Kennedy
"Joshua Hawley has made an important contribution to the literature on Theodore Roosevelt. His well-written study reminds readers that Roosevelt was a provocative political thinker whose influence on American thought and institutions continues to be profound. Hawley's work captures the energy and insight that Roosevelt brought to the art of politics."—Lewis L. Gould, author of
Grand Old Party: A History of the Republicans
Yale University Press, 9780300217483, 336pp.
Publication Date: March 24, 2015
About the Author
Joshua Hawley is a United States senator for Missouri.