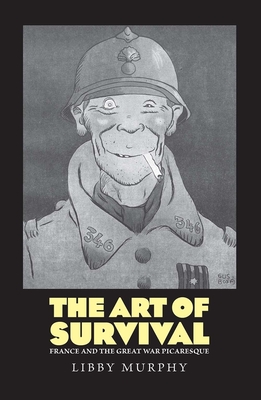 The Art of Survival
France and the Great War Picaresque
Hardcover

* Individual store prices may vary.
Description
An astute literary and cultural history of World War I in France that offers a fresh perspective on the popular culture of the Great War

The First World War soldier has often been depicted as a helpless victim sacrificed by a ruthless society in the trenches of the Western Front. In fact, Libby Murphy reveals, French soldiers drew upon a long-standing European tradition to imagine themselves not as heroes or victims but as survivors. Murphy investigates how infantrymen and civilians attempted to make sense of the war while it was still in progress by reviving the picaresque, a literary mode in which unheroic protagonists are forced to fend for themselves in a chaotic and hostile world. By examining works by French and European novelists, journalists, graphic artists, cultural critics, and filmmakers—including Charlie Chaplin—Libby Murphy shows how the rich tradition of the European picaresque was uniquely appropriate for expressing anxieties provoked by modern, industrialized warfare.
Praise For The Art of Survival: France and the Great War Picaresque…
"Libby Murphy's sensitive and beautifully written study of the picaresque ethos in World War I French literature and culture offers a rich and original analysis of the unprecedented destructiveness of the Great War and artistic efforts to come to terms with it."— Richard J. Golsan, Texas A&M University
— Richard J. Golsan

"Libby Murphy sees the picaresque as a road map, helping soldiers both to stay alive and to avoid going mad during the war.  Masters of evasion, artists of ingenuity – these are the anti-heroes whose voices are at the core of this vivid and intelligent book."—Jay Winter, Yale University

— Jay Winter

"Both original and ingenious, The Art of Survival is a series of fresh readings of trench literature and classics. Particularly inventive is Murphy's analysis of Charlie Chaplin as a picaro who enjoyed enormous popularity among French soldiers. This wonderful volume deserves a wide audience among literary critics and historians of the twentieth century."—Mary Louise Roberts, University of Wisconsin, Madison

— Mary Louise Roberts

"By bringing the Picaresque narrative--through words and pictures--to the Great War, Murphy very accurately reminds us that tragedy and despair are never far from irony and laughter, as she follows Chaplin, Bofa, Rabier, Poulbot, Chaine, etc. A very original and fine book."—Annette Becker, the University of Paris X-Nanterre

— Annette Becker

"A brilliant cultural history that shows why ordinary soldiers, faced with the carnage of the Great War, instinctively revived the tradition of the picaresque – the ordinary man's journey through adversity – and why this marked French culture in particular."—John Horne, Trinity College Dublin
— John Horne

"Brilliant"—C. B. Kerr, Choice
— C. B. Kerr
Yale University Press, 9780300217513, 304pp.
Publication Date: September 13, 2016
About the Author
Libby Murphy is associate professor of French at Oberlin College. Her research centers on French literature and culture of the First World War, the history of French journalism and popular culture, and theories of the novel. She lives in Oberlin, OH.
or
Not Currently Available for Direct Purchase