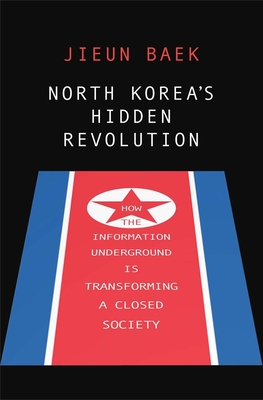 North Korea's Hidden Revolution
How the Information Underground Is Transforming a Closed Society
Hardcover

* Individual store prices may vary.
Other Editions of This Title:
Compact Disc (11/15/2016)
MP3 CD (11/15/2016)
Description
The story of North Korea's information underground and how it inspires people to seek better lives beyond their country's borders

One of the least understood countries in the world, North Korea has long been known for its repressive regime. Yet it is far from being an impenetrable black box. Media flows covertly into the country, and fault lines are appearing in the government's sealed informational borders. Drawing on deeply personal interviews with North Korean defectors from all walks of life, ranging from propaganda artists to diplomats, Jieun Baek tells the story of North Korea's information underground—the network of citizens who take extraordinary risks by circulating illicit content such as foreign films, television shows, soap operas, books, and encyclopedias. By fostering an awareness of life outside North Korea and enhancing cultural knowledge, the materials these citizens disseminate are affecting the social and political consciousness of a people, as well as their everyday lives.
Praise For North Korea's Hidden Revolution: How the Information Underground Is Transforming a Closed Society…
"A fine primer on the country, based on extensive interviews with defectors."—Min Jin Lee, Times Literary Supplement

"A fascinating book."—Nicholas Kristof, New York Times

"[A] timely and cogent book."—Stephen J. Gallas, Los Angeles Review of Books

"Well written and readable, the book will be of interest mostly to academic specialists and graduate students."—Choice

"The central concern of the book is timely and relevant: What are the social and political effects of media flows in a politically unfree society where information is tightly controlled? . . . The narrative of the book is driven more or less entirely by Baek's interviewees. This is one of the book's main strengths."—Steven Denney, Pacific Affairs

"In the last two decades, North Korea has gone through dramatic changes, largely because the old system of self-isolation began to crumble. In vivid detail, Jieun Baek's book shows this hidden transformation and how it changed the lives of North Koreans. A truly interesting read for all people interested in North Korea."—Andrei Lankov, author of The Real North Korea: Life and Politics in the Failed Stalinist Utopia

"For those befuddled by the Hermit Kingdom's antics and frustrated by our apparent impotence in addressing its challenge, Jieun Baek's North Korea's Hidden Revolution provides a powerful beacon of light."—Graham Allison, Director, Belfer Center for Science and International Affairs, Harvard Kenendy School

"A fascinating and intelligent overview of the ways that information is liberating North Koreans' minds."—Robert S. Boynton, author of The Invitation-Only Zone: The True Story of North Korea's Abduction Project

"Drawing on deeply personal and thoughtful interviews with North Korean defectors from all walks of life, Jieun Baek's North Korea's Hidden Revolution sheds invaluable light on North Korea's information underground. It is a fascinating, important, and vivid account of how unofficial information is increasingly seeping into the North and chipping away at the regime's myths—and hence its control of North Korean society."—Sue Mi Terry, former CIA analyst and senior research scholar at the Weatherhead East Asia Institute, Columbia University

"North Korea's Hidden Revolution humanizes a dark part of our world, gives agency and voice to North Koreans, and underscores the power of information in a uniquely closed society. A must-read."—Wael Ghonim, Egyptian human rights activist


Yale University Press, 9780300217810, 312pp.
Publication Date: November 15, 2016
About the Author
Jieun Baek is a Ph.D. candidate in Public Policy at the University of Oxford. Previously, she was a research fellow at the Belfer Center for Science and International Affairs at Harvard University and worked at Google, where, among other roles, she served as Google Ideas' North Korea expert. Baek received her bachelor's and master's degrees in Public Policy from Harvard. Visit her at www.JieunBaek.com.
or
Not Currently Available for Direct Purchase