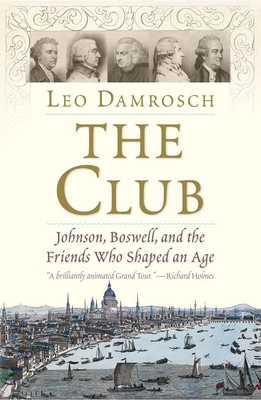 The Club
Johnson, Boswell, and the Friends Who Shaped an Age
Hardcover

* Individual store prices may vary.
Other Editions of This Title:
Digital Audiobook (3/25/2019)
Paperback (1/14/2020)
MP3 CD (3/26/2019)
Compact Disc (3/26/2019)
Compact Disc (3/26/2019)
Description
The story of the group of extraordinary eighteenth-century writers, artists, and thinkers who gathered weekly at a London tavern

Named one of the 10 Best Books of 2019 by the New York Times Book Review  • A Publishers Weekly Best Book of 2019 •  A Kirkus Best Book of 2019
 
"Damrosch brings the Club's redoubtable personalities—the brilliant minds, the jousting wits, the tender camaraderie—to vivid life."—New York Times Book Review

"Magnificently entertaining."—Washington Post

In 1763, the painter Joshua Reynolds proposed to his friend Samuel Johnson that they invite a few friends to join them every Friday at the Turk's Head Tavern in London to dine, drink, and talk until midnight. Eventually the group came to include among its members Edmund Burke, Adam Smith, Edward Gibbon, and James Boswell. It was known simply as "the Club."  
 
In this captivating book, Leo Damrosch brings alive a brilliant, competitive, and eccentric cast of characters. With the friendship of the "odd couple" Samuel Johnson and James Boswell at the heart of his narrative, Damrosch conjures up the precarious, exciting, and often brutal world of late eighteenth‑century Britain. This is the story of an extraordinary group of people whose ideas helped to shape their age, and our own.
Praise For The Club: Johnson, Boswell, and the Friends Who Shaped an Age…
"A magnificently entertaining book."—Michael Dirda, Washington Post

"Impeccable scholarship at the service of absolute lucidity. . . . Learned, penetrating, a pleasure to read. . . . [A] splendid book."—Joseph Epstein, Wall Street Journal

"Damrosch brilliantly brings together the members' voices. . . . As this stellar book moves from one Club member to another, it comes together as an ambitious venture homing in on the nature of creative stimulus. . . . The best historians . . . invite readers to accompany them 'behind the scenes.' Damrosch does precisely that here, . . . [in] a book that sustains a shared conversation, a terrific feat in keeping with that of the Club itself."—Lyndall Gordon, New York Times Book Review

"Beginning in 1764, some of Britain's future leading lights (including Samuel Johnson, Edmund Burke and Edward Gibbon) met every Friday night to talk and drink. Damrosch's magnificent history revives the Club's creative ferment."—New York Times Book Review, Editors' Choice

"Engaging and illuminating . . . Damrosch is a crisp guide . . . He wears his learning lightly, and his sympathetic enjoyment is infectious. . . . In The Club, as the actors appear one by one, surrounding Johnson and Boswell on Damrosch's stage, we are transported back to a world of conversations, arguments, ideas, and writings. And in this vibrantly realized milieu, words rarely fail."—Jenny Uglow, New York Review of Books

 "A very readable introduction" – Emily Jones, Financial Times

A New York Times Book Review's 10 Best Books of 2019

A Publishers Weekly's Best Book of 2019

A Kirkus Reviews' Best Book of 2019

Featured Among Publishers Weekly's"Most Anticipated Books of Spring 2019"

"This look at Samuel Johnson, his biographer James Boswell, and their social circle delightfully captures the bonds of friendship and competition which joined some of the late 18th century's greatest minds. . . . Damrosch [provides] crisp, colorful portraits of its members, illuminated by quotes from their lively, sometimes contentious interactions with each other. . . . This effervescent history shines a light on the extraordinary origins of a club which still exists to this day."—Publishers Weekly, starred review

A "masterful collective biography. . . . Damrosch offers incisive portraits of individual members, highlighting their relationships and interactions with one another to reveal 'the teeming, noisy, contradictory, and often violent world' they inhabited. . . . Late 18th century Britain comes brilliantly alive in a vibrant intellectual history."—Kirkus Reviews, starred review

"Damrosch's account reminds readers why this circle of creativity continues to fascinate. . . . Enriched with well-chosen color plates and black-and-white illustrations, this is an excellent introduction to Johnson and his world for the novice and a pleasant retelling for the initiated."—Joseph Rosenblum, Library Journal

"If Samuel Johnson is your man, prize-winning biographer Leo Damrosch's atmospheric new book, The Club: Johnson, Boswell, and the Friends Who Shaped an Age, should be on your radar. In clear, engaging prose, Damrosch ushers us into 'the club,' i.e., the Turk's Head Tavern in London, where members like Joshua Reynolds, Edmund Burke, Adam Smith, Edward Gibbon, and James Boswell joined Johnson for food, drink, and, perhaps more than anything else, intelligent talk."—Fine Books & Collections Magazine

"An entertaining and absorbing journey to another century, when the art of communication and the spirit of thoughtful engagement attracted men and women of acute sensibilities."—Thomas Filbin, Arts Fuse

"Savoring the pages of The Club, one comes close to experiencing the exuberance described by Boswell in his account of a few hours spent with his mentor at the home of Mrs. Hester Thrale, Johnson's closest female friend: 'I was kindly welcomed. In a moment [Johnson] was in full glow of conversation, and I felt myself as if brought into another state of being. I shall ever recollect this scene with great pleasure.' Many readers will feel the same way about this book."—Aram Bakshian, Jr., Washington Times

"Such luminous configurations are rare."—A.W. Lee, Choice

"Damrosch gives us a sense of the dynamism and grandeur of the period by his expert use of sources and with a generous selection of paintings, portraits, and sketches. . . . He relies on the Thraliana to check the accuracy and motives of other observers throughout the book. While this is the biographer's task, it is an infrequent pleasure to see it done so well and so seamlessly. It's one of the things that makes Damrosch worth reading."—Timothy D. Lusch, Chronicles

"This fascinating history will likely prove one of the most engaging, enlightening, and delicious books you'll come across in a long time. . . . With unforgettable anecdotes and quotations, Damrosch shows that The Club did indeed shape an age. . . . Theirs was an age of 'words, words, words,' to quote Hamlet, a love of which, as Damrosch shows, often superseded partisan politics and favored philosophies. As if all this richness were not enough, The Club excels in color photos and black-and-white drawings Damrosch integrates into his text. This is, simply put, a marvelous and memorable book."—Joan Baum, WSHU Public Radio

"Leo Damrosch is a masterly narrator steeped in the minutiae of the lives he assembles. The result is an engaging and readable tour."—Philip Carter, Journal of Modern History
 

Shortlisted for the 2020 Christian Gauss Book Award, sponsored by the Phi Beta Kappa Society

Finalist for the 2019 Julia Ward Howe award for non-fiction category, sponsored by The Boston Authors Club

Winner in the PROSE Awards Biography and Autobiography category, sponsored by the Association of American Publishers



 

Finalist in the L.A. Times Book Prize, biography category, sponsored by the L.A.Times.

"The Club is a stimulating and delightful work. The portraits of Boswell, Gibbon, and Burke are extraordinary condensations granting us accurate visions of complex personalities. Leo Damrosch has addressed himself to common readers with authentic gusto."—Harold Bloom

"Brilliant, lucid, and enjoyable . . . With perfectly chosen anecdotes, The Club vividly evokes the period."—Norma Clarke, author of Dr Johnson's Women

"Leo Damrosch's book is an extraordinary achievement. A lively and engaging account of the coming together of a group of famously gifted individuals—the Club, a virtual microcosm of the vibrant world of mid-to-late eighteenth-century London."—William C. Dowling, Rutgers University


Yale University Press, 9780300217902, 488pp.
Publication Date: March 26, 2019
About the Author
Leo Damrosch is the Ernest Bernbaum Professor of Literature Emeritus at Harvard University. His previous works include the National Book Critics Circle Award winner Jonathan Swift: His Life and His World, and Eternity's Sunrise: The Imaginative World of William Blake. He lives in Newton, MA.
1. Members of the Club differed in many of their opinions (toward politics, travel, foreigners, the poor, women, etc.), and yet they enjoyed lively discussions and for the most part remained friends. What can we learn from them about maintaining civility?
2. What aspects of eighteenth century life appeal to you? Which customs, attitudes, or laws would seem intolerable?
3. Regardless of talent or education, women were specifically excluded from membership in the Club. Even so, Johnson valued women and had close relationships with several. Can you identify any advantages that women of the times enjoyed? How did they exert influence?
4. What sense do you get of different styles of marriage: loving (Garrick, Boswell), unhappy (Johnson), and polite but unromantic (the Thrales)? How did Boswell rationalize his compulsive recourse to prostitutes?
5. Reynolds promoted the idea of the Club with the intent of relieving Johnson's bouts with depression through lively discussion, food, and drink that fueled weekly Friday night gatherings. Does your reading club or other group resemble the Turk's Head Tavern gatherings in any way?
6. Despite the difficulties of travel in his day, Johnson adored speed and adventure. What aspects of his trip with Boswell to the Hebrides would appeal to you? Does the illustration depicting Johnson a treacherous seaside path that he clambered down (p. 258) change your opinion of his vitality?
7. Both Johnson and Boswell suffered difficult childhoods and illnesses while receiving minimal sympathy from their parents. Compare their experiences with those of children today.
8. Do you find the evidence convincing to suggest that Johnson would be diagnosed today with obsessive compulsive disorder, and Boswell with bipolar disorder and alcoholism?
9. If Boswell were contemplating a biography of a public figure or celebrity in the twenty-first century, who would you propose as an interesting subject?
10. Surprisingly, Boswell included Johnson's eloquent argument against slavery in The Life of Samuel Johnson, then proceeded to defend the institution using terms like "humane" and "mercy." Does this change your opinion of Boswell? What opinions or positions of our times would you regard as rationalizations?
or
Not Currently Available for Direct Purchase