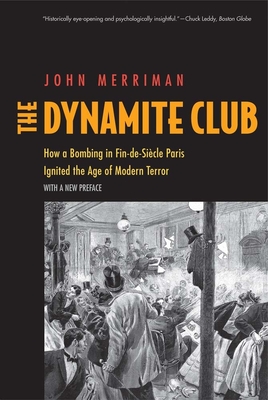 The Dynamite Club
How a Bombing in Fin-de-Siècle Paris Ignited the Age of Modern Terror
Paperback

* Individual store prices may vary.
Description
Distinguished historian John Merriman maintains that the Age of Modern Terror began in Paris on February 12, 1894, when anarchist Emile Henry set off a bomb in the Café Terminus, killing one and wounding twenty French citizens. The true story of the circumstances that led a young radical to commit a cold-blooded act of violence against innocent civilians makes for riveting reading, shedding new light on the terrorist mindset and on the subsequent worldwide rise of anarchism by deed. Merriman's fascinating study of modern history's first terrorists, emboldened by the invention of dynamite, reveals much about the terror of today.
Praise For The Dynamite Club: How a Bombing in Fin-de-Siècle Paris Ignited the Age of Modern Terror…
"In . . . his enthralling and cinematic account of a Paris cafe bombing in 1894, Merriman achieves that rare thing: virtuosic storytelling that doubles as superb history."—Kirk Davis Swinehart, Chicago Tribune

— Kirk Davis Swinehart

"Historically eye-opening and psychologically insightful."—Chuck Leddy, Boston Globe

— Chuck Leddy

"Those who think of terrorism as an inexplicable evil produced by an alien culture will have their eyes opened by this fascinating study of 19th-century anarchist terrorists."—San Francisco Examiner

— San Francisco Examiner

"Merriman's account frames an illuminating study of working-class radicalism in belle époque France and its bitter conflict with the establishment in an age when class warfare was no metaphor. It [is] an absorbing true crime story, with Dostoyevskian overtones, about high ideals that motivate desperate acts."—Publishers Weekly, starred review

— Publishers Weekly

"Reconstructing Henry's own attacks, Merriman allies a forensic eye with the texture of Paris de la belle époque, ably renders Henry's personality, and implicitly invites comparison of his with the mid-sets of contemporary terrorists."—Gilbert Taylor, Booklist

— Gilbert Taylor

"Reading a book on nineteenth-century anarchism by John Merriman is a bit like reading one on the semicolon by Strunk and White…he is able to pack in riveting detail." —Bookforum

— Bookforum
Yale University Press, 9780300217926, 288pp.
Publication Date: March 1, 2016
About the Author
John Merriman is Charles Seymour Professor of History at Yale University and the author of numerous books on French and modern European history. He splits his time between North Haven, CT, and Balazuc, France.
or
Not Currently Available for Direct Purchase