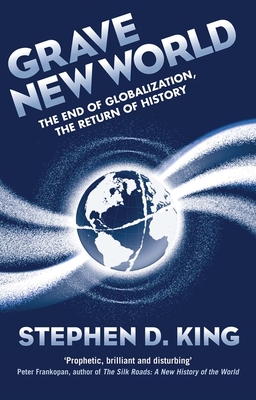 Grave New World
The End of Globalization, the Return of History
Hardcover

* Individual store prices may vary.
Other Editions of This Title:
Compact Disc (5/23/2017)
Paperback (5/22/2018)
Description
A controversial look at the end of globalization and what it means for prosperity, peace, and the global economic order

Globalization, long considered the best route to economic prosperity, is not inevitable. An approach built on the principles of free trade and, since the 1980s, open capital markets, is beginning to fracture. With disappointing growth rates across the Western world, nations are no longer willing to sacrifice national interests for global growth; nor are their leaders able—or willing—to sell the idea of pursuing a global agenda of prosperity to their citizens.
 
Combining historical analysis with current affairs, economist Stephen D. King provides a provocative and engaging account of why globalization is being rejected, what a world ruled by rival states with conflicting aims might look like, and how the pursuit of nationalist agendas could result in a race to the bottom. King argues that a rejection of globalization and a return to "autarky" will risk economic and political conflict, and he uses lessons from history to gauge how best to avoid the worst possible outcomes.
Praise For Grave New World: The End of Globalization, the Return of History…
"A well-written and thought-provoking book."—
Economist
"[
Grave New World
] sets out the argument strongly and clearly. . . . King correctly takes aim at the very idea that there is a single international community with an agreed set of aims and ideas, or even a united west when it comes to important issues such as foreign policy and projecting 'Western values' in the Middle East. . . . The truth is, as usual, somewhere between despair and ebullience."—Alan Beattie,
Financial Times
"Where it succeeds is the ease with which the reader can digest complex ideas. King is a clear, confident guide, weaving his way through history and joining the dots with panache. This story of our time has a cliff-hanger ending. Will it be a grave new world?"—Philip Aldrick, 
Times
"No economist ever lost his reputation by erring on the side of pessimism. In this book, the already much-lauded, HSBC-based thinker, Stephen D. King, warns the West of a host of political-economic horrors on the horizon. . . . This is a book to open that debate, not close it."—Andrew Marr,
Sunday Times
"A well-argued and credibly pessimistic book."—Martin Wolf,
Financial Times
"The era of globalisation might be over, warns this gripping and clearly argued guide to the possible future."—
Sunday Times,
"Summer Reading 2017"
"Economist Stephen D. King's analysis of globalization is searing and timely, offering historical lessons on how political narratives that abandon the global agenda, such as Brexit, threaten our economic order."—
Nature
"Well-argued and credibly pessimistic."— Martin Wolf,
Books of the Year 2017: Economics
,
Financial Times
"Smart and timely . . . hugely important."—
Raleigh News and Observer
"Stephen D. King's
Grave New World: The End of Globalization, the Return of History
is a nuanced nonfiction addition to this literature of discontent."—
Los Angeles Review of Books
LONGLISTED FOR THE FT-MCKINSEY BUSINESS BOOK OF THE YEAR 2017
"In a powerful and well-written book that draws on important historical insights, Stephen King explains why globalization is not as secure as many would have led you to believe – especially in a world where old and new political forces, as well as disruptive technologies, are aggressively competing to re-shape relationships, institutions and ideas. This is a must-read book for those wondering about the future functioning of the world economy and what it could entail not just for the global economic order but, also, the well-being of individual countries."—Mohamed El-Erian, Chief Economic Adviser, Allianz SE and author of The Only Game in Town: Central Banks, Instability and Avoiding the Next Collapse
"Prophetic, brilliant and disturbing. Required reading to prepare for the world of the (very near) future."—Peter Frankopan, author of The Silk Roads: A New History of the World
"King reminds us both  that over millennia there have been previous waves of globalization and that, whilst they may have had different drivers, they fall as well as rise. And the falls have not been pretty. As a world , we have benefited greatly from the current wave over the last seven decades, and would if it continued. But that is far from inevitable and we must understand the longer history and the forces which are now putting this wave in serious question. King's analysis is fascinating and fun in its story telling and profoundly important in its substance."—Lord Nicholas Stern, President of the British Academy, I.G.Patel Professor of Economics and Government at the LSE, and cross-bench member of the House of Lords
"What will replace the rules-based order of the past seven decades, as the era of globalization – and of prosperity and relative peace – shudders to an end? Stephen King's compelling and sobering exploration of recent trends makes it clear that the most likely outcomes of the crisis of globalization are deeply troubling. A world without a strong EU, WTO, NATO, and without American leadership, is going to be uncertain, dangerous and impoverished."—Diane Coyle, professor of economics, University of Manchester and author of GDP: A Brief But Affectionate History
"Stephen King has written a very important book at a crucial time. His vital historical perspective provides a unique contribution to current debates and his arguments deserve broad consideration."—Lawrence H. Summers, former US Treasury Secretary
Yale University Press, 9780300218046, 304pp.
Publication Date: May 23, 2017
About the Author
Stephen D. King is the author of When the Money Runs Out: The End of Western Affluence (2013) and Losing Control: The Emerging Threats to Western Prosperity (2010), both published by Yale. He combines his role as HSBC's Senior Economic Adviser with journalism and consultancy work, and is a specialist adviser to the House of Commons Treasury Committee.
 
or
Not Currently Available for Direct Purchase