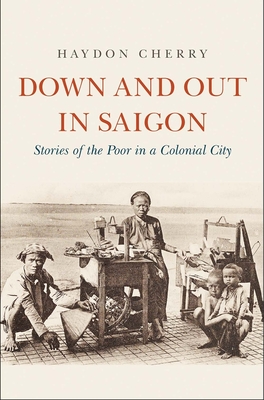 Down and Out in Saigon (Hardcover)
Stories of the Poor in a Colonial City
Yale University Press, 9780300218251, 280pp.
Publication Date: May 28, 2019
* Individual store prices may vary.
Description
A moving portrait of the lives of six poor city-dwellers, set in early twentieth century colonial Saigon
 
Historian Haydon Cherry offers the first comprehensive social history of the urban poor of colonial French Saigon by following the lives of six individuals—a prostitute, a Chinese laborer, a rickshaw puller, an orphan, an incurable invalid, and a destitute Frenchman—and how they navigated the ups and downs of the regional rice trade and the institutions of French colonial rule in the first half of the twentieth century.
 
"Down and Out in Saigon is marked by three qualities that endow it with unusual value: the originality of its subject matter, as the first and only history of colonial Saigon's poor population, the excellence of its research, and Cherry's elegant prose."—Peter B. Zinoman, University of California, Berkeley
 
"This is more than a corrective of revolutionary historiography—it is a tour de force that brings marginal and forgotten lives into the story of modern Vietnamese history."—Charles Keith, author of Catholic Vietnam: A Church from Empire to Nation
 
About the Author
Haydon Cherry is assistant professor of history at Northwestern University.
Praise For Down and Out in Saigon: Stories of the Poor in a Colonial City…
"Down and Out in Saigon is marked by three qualities that endow it with unusual value: the originality of its subject matter, as the first and only history of colonial Saigon's poor population, the excellence of its research, and Cherry's elegant prose."--Peter B. Zinoman, University of California, Berkeley
"Down and Out in Saigon is more than a corrective of revolutionary historiography - it is a tour de force that brings marginal and forgotten lives into the story of modern Vietnamese history."--Charles Keith, author of Catholic Vietnam: A Church from Empire to Nation